Reader Vance Makin is interested in setting limits around the house. He writes:
I have two teenagers and sometimes need to control their Internet access. For example, child #1 might be limited to two hours in the afternoon and one in the evening. Child #2 might have unlimited access until 10:00 PM, and then none until 8:00 the next morning. My own access should continue uninterrupted. Is there a way to do this with their Macs and iPods?
I'll begin by donning my Pollyanna garb and suggest that all you need to do is sit down and have a serious talk with your children, explaining why you feel it's necessary to set these limits. Each child will immediately understand your concern, give you a loving squeeze, and do exactly as you ask.
If, however, you live in the real world, you might want to have a fallback plan. Parental Controls may seem like the perfect fallback for the Mac, but in your case it's not. Parental Controls limits access to the Mac entirely rather than simply limiting Internet access. For the Internet your fallback plan is your router. Most routers allow you to limit access based on a device's MAC address. It works this way on an AirPort Extreme Base Station:
Launch AirPort Utility, select your router, and click the Manual Setup button. Select the AirPort tab at the top of the window and click the Access Control tab. From the MAC Address Access Control pop-up menu choose Timed Access. This is where you begin setting up limits.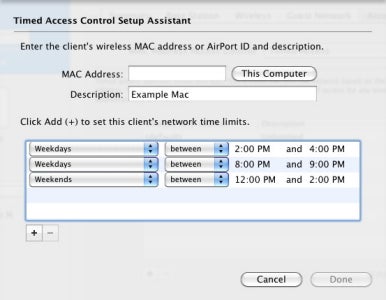 Click the Plus button at the bottom of the pane and in the sheet that appears enter the MAC address for the devices you want to limit. On an iOS device you'll find this address by choosing Settings -> General -> About and locating the Wi-Fi Address Entry. On a Mac, hold down the Option key and select System Profiler (Snow Leopard) or System Information (Lion) from the Apple menu. When System Profiler appears, select Network and then in the Active Services column to the right, select the device used to connect to the Internet (AirPort or Ethernet). Search for the MAC Address entry in the results below.
Once you've entered the MAC Address, type in a description (Billy's iPhone, for example). Now configure the pop-up menus below. Here you can choose time limits that include No Access, Mondays, Tuesdays, Wednesdays, Thursdays, Fridays, Saturdays, Sundays, Weekdays, and Weekends. Click the Plus button in this sheet and you can add more entries—you can, for example, include two entries for each weekday (which takes care of your two-hours-in-the-afternoon-and-one-in-the-evening request).
Click Done when you're done and update the AirPort Extreme and the router will block access except during those hours allowed.