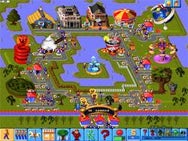 EA Mobile told Pocket Gamer this week that it was bringing two of its biggest, most well-known franchises to iOS devices later this year. Battlefield 3 and Theme Park are apparently on the way to Apple's handhelds.
The portable version of Battlefield 3 looks set to follow a similar pattern to the previous Battlefield: Bad Company 2 by featuring a parallel side story rather than a severely nerfed version of the technologically impressive PC and console version.
Theme Park, on the other hand, is a game that iOS players have been saying would be ideal for their devices for years now. It looks like we're finally getting our wish. Originally designed by Peter Molyneux's developer Bullfrog, the original PC versions of Theme Park are among some of the most fondly remembered sim titles of all time, and given the success of Kairosoft's management titles on the Apple portables, the game has the potential to be a big hit. The game has already seen a portable release with 2007's DS edition, but it's not yet known if the iOS version will be a straight port of this or a new interpretation.
Early indications suggest that both games will be on show at Gamescom next week, so hopefully more details will emerge then.