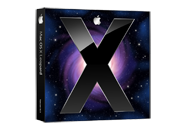 Apple wants you to know that it takes care of its migrating Leopards—even if they're not snow-colored. On Wednesday, the company released Migration Assistant for Mac OS X Leopard, to aid users in transferring files from a Mac running Leopard to one with Lion installed.
The update fixes an issue with Leopard's Migration Assistant, wherein personal data, settings, and compatible applications would refuse to transfer from a Mac with Leopard installed to a Mac running Lion.
It's important to note that this patch is for Macs with OS X Leopard, not for your new Lion system; as such, to install, you'll need to be running Mac OS X 10.5.8. You can download the 4.98MB update over Software Update on your computer or via Apple's Support Downloads website.
Note: When you purchase something after clicking links in our articles, we may earn a small commission. Read our affiliate link policy for more details.