The great folly of expensive cameras is that they don't take amazing pictures by themselves. Naturally, new photographers will want to hone their craft to translate their creative vision though the lens. But after combing through the instruction manual, the only way to tap into your inner artistic genius is practice, practice, practice. Getting constructive feedback from strangers and professionals is a great way to take your photo composition techniques to the next level, and the Internet is chock full of places where strangers enthusiastically give their (free!) opinion. While sometimes you get what you pay for, the right kind of critique can really give you insight. Here's a guide on where to go to get constructive criticism on your new camera's snapshots, and how to play nice with others seeking the same.
Where to get feedback on your photos
There are informational sites and community forums for every kind of photography one could ever be interested in. Of course the typical photo sharing sites will elicit comments from friends and family, but if you're looking for more technical (and less biased) feedback, try these places.
Flickr
Ease yourself into the feedback pool with the largest and most vibrant photo-sharing community on the web— Flickr.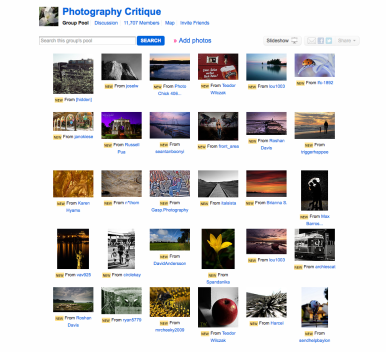 You can upload photos to your personal gallery and later add selected photos to public groups. There are millions of public groups on Flickr where you can post an image and get feedback from an active community. You can add an image to a group, or join or start a discussion thread if you have specific questions. You can post photos in threads as well.
There are groups for everything on Flickr, including specific camera models, types of photography, location (great if you want to meet other photographers in person), and subject mater. If you're looking to receive an honest critique of your work, do a search for the word "critique" and browse the over 2,000 results.
In many Flickr groups this kind of contact with strangers can devolve into four or five people offering unequivocal praise. Spend some time searching for the right group for your level, type of photography, and desired mix of positive and critical comments.
Photo.net
Outside of Flickr, smaller forums abound. Photo.net has been around since 1993, and it's a good place to start learning. The extensive forum categories have extremely knowledgeable posters who answer questions promptly and usually politely.
In the site's gallery, visitors can sift through thousands of photos, and registered members can rate others' photos on a scale of 1 to 5. Better still, rather than a use "comment" box, photo.net has a box urging "critiques", a nuance that sets the tone for more serious photo conversation.
Similar sites like Digital-Photography-School.com (DPS) or PhotoSig.com also request serious critiques from users. DPS has curators who offer weekly assignments, and both sites encourage users to post their images with information like camera and lens type, film type (if applicable), and exposure length. That's the kind of detail that will help the casual user gain more control over her picture box.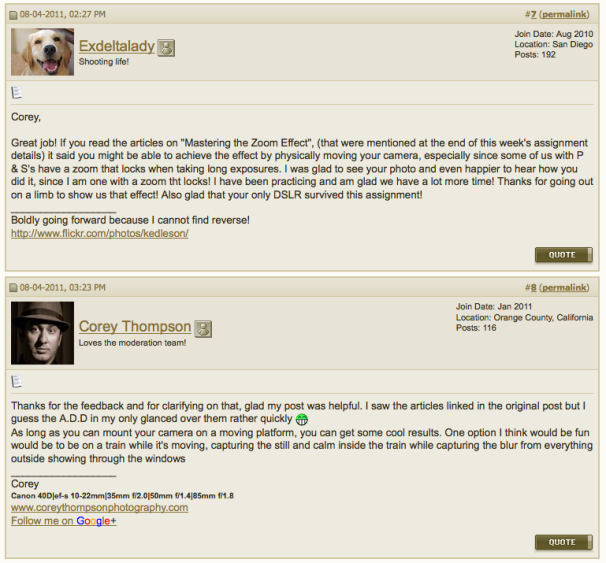 Twitter
Following prolific photographers on Twitter (like @thomashawk) can also be instructive (Thomas Hawk in particular is always linking to articles about photography). Because Twitter is such an open form of social media, use your best judgment here. Occasionally the medium can be used to interact with an artist you admire and even possibly get a short answer! Better yet, Twitter users can upload a photo or two of their own to their Twitter stream and ask followers what they think.
How to post and critique the right way
Spending all this time on forums raises questions about the kind of behavior that's appropriate. Commenting is great! A silent member never does a community any good. Especially for the above-mentioned sites, where all the members ostensibly want to improve their photography skills, not commenting is like not paying your dues. But commenting on other people's photos isn't like commenting on YouTube or in the comments section of your local newspaper. Keep it on-topic and maybe ask a question or give encouragement. Make sure what you're saying is constructive, and not just, "Wow, this is great!"
Author Haje Jan Kamps recommends that those giving critiques decide on an interpretation of the piece, starting with "This photo makes me feel…" or "This photo is about…". Viewers should also take note of artistic and compositional choices, and look at the photo's technique (exposure, focus, colors, and lighting). Good feedback should take time, and not always be resoundingly positive.
Don't upload your whole gallery to a critique forum. Most forums won't allow you to post more than one photo per 24-hour period in each thread and some, like 1x.com, filter submitted photos so you can't put up pet portraits or quick vacation shots for critique. You should think about the photo you're uploading. Usually the uploaded photo should be no bigger than 750 pixels in length. The idea is that you'll submit your best, and this game is about quality, not quantity.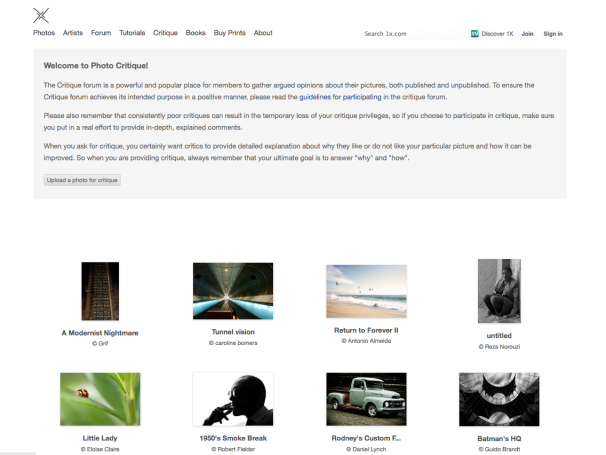 The most important rule for forum users (after "be polite") is to always post in the appropriate forum category. You definitely want to do an initial search to see if your question has already been answered. Also, you can generally edit your posts. If you post a question, and then think of a new question, just go back and edit the post instead of adding a new box and cluttering the forum. Be mindful of the content you post: don't self-promote, as posts that keep appearing with links to other websites will usually be taken down, as will photos that are cribbed from other sources, so don't make "fanvids" or steal another artist's artwork.
Finally, remember that if someone makes a comment that you don't like on one of your photos, it's your prerogative to take the image down. But if they're not being blatantly mean, think about checking your ego and talking it out or agreeing to disagree.
Find a niche community
If the standard DSLR "look" isn't your bag, there is a specialized photo community out there that fits your technology or style of choice. Lomography.com is a vibrant community where analog photography comrades can gather under the umbrella of the "Don't think, just shoot" motto, and Film-Photography.org is a site for non-digital enthusiasts. There's also the lo-fi Nature Photographer's critique forum for those who can get away from the concrete jungle. EyeEm and iPhonography are good places for the mobile phone-photo buffs.
All this said, a final option is to forego the whole Internet thing and look for a local camera club. Do a quick Google search, scour Flickr, look out for flyers at the local camera shop, or check with a community college in your area to see if there are any real humans who meet with other real humans to talk about photography on a monthly or weekly basis. Face to face contact is fun!