Whether you want to fly through the air, sit on your couch, or simply be productive, this week's roundup of iOS accessories has you covered. Here's what's on our radar this week: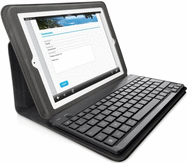 Belkin: The accessory-maker wades into the crowded Bluetooth-keyboard-case market with its $100 Keyboard Folio for iPad 2. Belkin says the case has a "suede-like feel," while the keyboard itself provides 60 hours of active battery life and 2,000 hours of standby battery life. The function-specific keys let you copy and paste text, as well as control the iPad's sound volume and several other features.
Bluelounge: If you want to charge your iPhone or iPod, but hate having wires strung all over the place, Bluelounge's new MiniDock is a possible solution. The $20 device plugs directly into Apple's iPhone's AC charger, letting your iPhone sit upright while it charges sans wires. The company pitches the product as being great for travel, or for use in space-deprived areas such as the kitchen. MiniDock comes in three versions—one each compatible with Apple's AC adapter for the U.S., the U.K., and the European Union.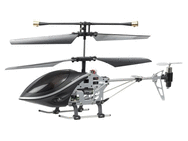 iHelicopters: If you were a nerdy child in the 1980s, you'll be excited to know that your iPhone can now give you a small taste of the Airwolf experience. iHelicopters.net is offering four different remote-controlled helicopters, each $60 and controlled by an app for your iPhone, iPad, or iPod touch. Just plug a transmitter into your iOS device, open up the free i-Helicopter app, and start flying your missions. A full charge lets the helicopter fly for up to 45 minutes, but the remote transmitter must stay within 8 to 10 meters to retain control. (Jan-Michael Vincent not included.)
Pioneer Electronics: Looking to get the best sound experience out of your iOS device? Pioneer has launched two new models in the line of Apple-focused AV receivers Macworld told you about in March. Both the $2,000 SC-57 and the $1,600 SC-55 include AirPlay for streaming music from your Mac, iPhone, iPad, or iPod touch. Open up the Pioneer Air Jam app on any iOS device to wirelessly control each receiver. The receivers are designed to deliver audio for Blu-Ray discs and other high-fidelity formats. The SC-57 provides 10 different speaker configurations; the SC-55 offers seven.
Targus: If you've ever enjoyed the comfort of a padded lap desk for doing homework, writing, or reading, you might like Targus' $50 Lap Lounge for iPad 2. The device has a bean-bag-filled cushion as its base, the foundation for a viewing stand that lets you prop your iPad at various angles for optimum viewing. A zippered pocket lets you store the device's handle or your other tablet accessories. The Lap Lounge is listed as "coming soon."
USBFever: Looking for a handy way to keep your iPad off to the side, but still in view? USBFever's $76 Table Mount system functions much like an adjustable mic stand, but clips onto a desk or nearby shelf to give you full view of the tablet.