Smail Stencil is an iPhone app from ElementoApps Enterprise that acts as a repository for those missives you send frequently and hate typing over and over again.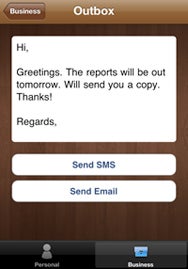 With Smail Stencil, you can save snippets of text ranging from phrases and sentences to entire paragraphs; once saved, you're able to send this text via email or SMS with the tap of a button. Smail Stencil inserts the selected text into the body of a message; you just fill out the other details, such as the message's recipient.
Smail Stencil contains two categories: personal and business. While you can add as many notes as you'd like, Smail Stencil does not offer a way to add new categories or even to rename the default ones.
While Smail Stencil makes sharing text easy, it isn't without some notable flaws. For one, the app does not allow you to edit an existing entry. You must create a new entry every single time. Smail Stencil is also limited to plain text entries only—typed website URLs are not live links, for example.
Smail Stencil works well as a simple text clipboard. It will save you time as long as you accept its somewhat limited scope and features.
[Macworld contributor Brendan Wilhide covers the sports industry and social media on Sportsin140.com.]