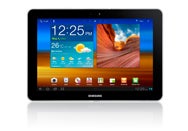 Samsung will head to court on Aug. 25 to defend its right to sell the Galaxy Tab 10.1 in most of Europe, following a preliminary injunction Apple obtained earlier this week at a court in Düsseldorf.
The preliminary injunction prevents Samsung from selling the Galaxy Tab 10.1 in all European Union countries, except for the Netherlands, where a separate lawsuit is underway. The case is about the design of the tablet, which Apple claims is a copy of its iPad.
"Samsung is disappointed with the court's decision and we intend to act immediately to defend our intellectual property rights," the company said in a statement after the injunction was handed down on Tuesday.
How long it will take for the court to render a verdict depends on how the hearing proceeds, a spokesman at the Düsseldorf court said via e-mail.
"I would think that it will take a week or two after the hearing, until a written decision is available. But it might also be possible that the judges decide directly on Aug. 25," he said.
Currently, the legal battle between Apple and Samsung is taking place all over the world. In addition to Germany and the Netherlands, lawsuits are also proceeding in Australia and the U.S.
Following the preliminary injunction, European operators that already selling Samsung's tablet are taking a wait-and-see approach.
For example, operator TeliaSonera, which has exclusive rights to the 10.1 model in Sweden, will continue to sell the tablet until Samsung tells it not to, a spokeswoman said on Wednesday. On Friday, the product was still available on its website.
Also, Vodafone will continue to sell the Galaxy Tab 10.1v—which is a special version developed for the operator—in Germany, according to a spokeswoman. The device has slightly different dimensions and weight compared to the regular 10.1 model, and isn't included in the court case, she said. Vodafone has not yet started selling the regular model.