At a Glance
Expert's Rating
Pros
Supports multiple online services
Fine sound when used with better speakers
Cons
Bundled speakers sound cheap
Difficult to stream local audio
Set up and navigation is clumsy
Poor iOS app
Our Verdict
You're likely aware that the Internet is full of streaming radio stations—both those that exist entirely on the Internet as well as traditional, terrestrial radio stations. You may also be aware that iTunes' radio stations aren't the only way to access this audio. In fact, there are many stand-alone devices that stream this content. Grace Digital Audio makes several of these devices, including the Bookshelf Micro System. While this system lives up to its name in being perfectly sized to fit on a bookshelf and provides a fair number of features for its $250 price tag, it has a lot of rough edges.
The details
Before we get to the specifics of those edges, here's the obligatory description. Grace's Bookshelf Micro System is made up of a package of components that includes the brick-and-a-half-sized main unit, a power supply, a remote control, and two speakers—each featuring a 3.5-inch driver, 1-inch tweeter, and 4-inch port to enhance bass performance. The back of the main unit bears a single USB port for connecting a flash drive or external hard drive, two sets of RCA jacks (one for auxiliary input and another for output), and a jack for connecting the included Wi-Fi antenna. The device uses 802.11n Wi-Fi by default, but you can connect the device to your network via ethernet with an optional $20 USB-to-ethernet adapter. On the front of the main unit is a headphone jack.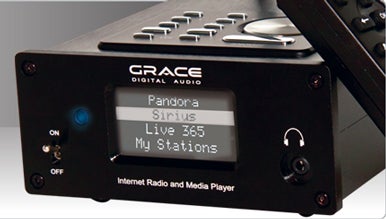 The system supports streaming audio not only from more than 17,000 Internet radio stations, but also from such services as DAR.fm, Pandora, Rhapsody, SiriusXM, CBS Radio, Live365.com, MP3tunes, NPR, National Weather Service, and WeatherBug. As mentioned earlier, you can additionally attach a USB drive to the main unit and play audio from that drive (supported formats include AIFF, AIFC, WAVE, CAF, NeXT, ADTS, MP3, Ogg Vorbis, FLAC, and unprotected AAC and WMA files) as well as attach an audio device to the unit's auxiliary input jacks. If you know how to configure your computer as a UPnP server, you can also stream music from your computer to the Micro System.
The top of the main unit carries controls that allow you to navigate the device. You can also navigate the unit using the included remote. Grace has additionally created an iOS app for controlling its hardware (more on the shortly).
About those edges
Before delving into areas of where I'd like to see some improvement, here are the highlights. For a $250 device (available for less than $200 from online retailers) the Bookshelf Micro System provides support for a reasonable number of services. The wireless range of the device is also pretty good. And I'm pleased that Grace has created an iOS application to control the device.
But even at a street price of $200, the system isn't entirely a bargain. To begin with, the unit is a chore to set up. You're provided with precious few controls and a limited LCD display to configure your network and set up services and radio stations. The unit is good about remembering your settings once you've completed setup, but you'll regret every moment you spend mashing buttons to get the thing going. Again, because of limited controls and the small screen, navigating the device isn't much fun either. Dig down into a hierarchy of menus and it can be slow going making your way back. There is a Menu button on the remote that takes you back to the main screen, but getting to interim screens is laborious.
The free GraceRemote iOS app could address some of these issues but it's truly awful. I had endless problems with it—from the app locking up, to the unit resetting whenever I did anything with the app, to it being unable to connect to the main unit. App Store reviews hint that my experience wasn't out of the ordinary.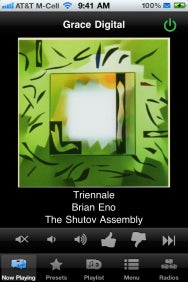 After restoring the main unit to its factory settings and reinstalling the app I was able to get it working for awhile, but even in a working state it's a poor performer. It's slow to respond, you can't view your music queue, the Next and Previous buttons don't work, and the design is uninspired. Given how difficult the Micro System is to navigate, having an iOS app to cut through the interface is a brilliant idea. If only the execution was as brilliant. Given its bugginess, the app simply isn't a viable option for controlling the Micro System—were I reviewing the app separately it would merit a single mouse. I hope someone gives it a stern overhaul soon.
And then there's audio quality. The speakers are cheap and they sound it—unbalanced and thin. I connected some decent powered speakers via the main unit's auxiliary output jack and the sound improved significantly. So the main unit produces good sound, it's just that it's bundled with poor speakers.
Finally, streaming music from your computer to the Micro System is anything but easy. You need to set up a UPnP server on your Mac to do it—there is no "it just works" solution like AirPlay, or those provided by Sonos or Logitech Squeezebox products—and the manual and Grace's website provide no instructions for doing this. I understand that the focus of the device is streaming Internet content, but if it's going to support local streaming, it should be easy to implement.
Macworld's buying advice
Grace gets points for making the Micro System compatible with a load of services and formats and the main unit sounds fine when connected to headphones or decent speakers, but as a package it doesn't gel. If the Bookshelf Micro System included just the main unit, bore a list price under $200, and could be controlled by a solid iOS app, it could be a contender. Regrettably, that doesn't reflect the device's current state. There are other systems that stream Internet- as well as local audio far better—including Logitech's Squeezebox devices and Sonos' Play:3 ( ). And they aren't a whole lot pricier than the Micro System. If I were seeking a compact streaming audio system I'd first consider these other options.