Summer's end is approaching, but there's no let up in the amazing variety of cases that continue to appear for Apple's iPad. This week's roundup features the usual exciting mix of products that tackle the challenge of protecting your iPad while offering new ways of taking advantage of the hottest tablet around.

Addo: Touted as the "all-in-one integrated iPad case solution," the SlateShield (iPad 2; $55) is a case that has it all: a rotating handle, an adjustable strap, and an integrated stand that allows both landscape and portrait viewing. The SlateShield is made of tough, durable ABS plastic and comes in a black finish.

DeviceWear: The Deft Detour 360 (iPad 2; $37) is a leather-like case that incorporates a rotating stand. Featuring a polyurethane exterior with gray-microfiber interior, the case can prop up the iPad at three convenient angles in both orientations for typing or viewing. The Deft Detour comes in black, supports the iPad 2's magnetic sleep/wake feature, and features a nifty window on the back to keep an eye on the tablet's Apple logo.

FieldFolio: New from this Australian startup is a series of cases inspired by the ancient art of bookbinding. The iPad 2 FieldFolio (iPad 2; $69) features sturdy construction and is made of fully recycled paper board. A custom-fit internal cradle holds your tablet safe, while the integrated magnets support the iPad 2's sleep/wake feature. The FieldFolio comes in black, grey, blue, orange, pink, or green.
Fuse: Touch is everything when it comes to iOS devices, but as mom would say, you should never touch something if you don't know where is been. Unless, of course, you happen to have one of Fuse's Antibacterial Screen Guards (iPad & iPad 2; $30), which protects your iPad's screen while reducing the growth of bacteria up to 99 percent. Like all good screen protectors, it's also fingerprint-resistant; it also sports a matte finish that reduces glare.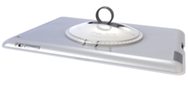 iTab_Grip: The eponymous iTab_Grip (iPad & iPad 2; $50 to $55) offers the protection of a case with a rotating hub on the back that you can use to conveniently hold your tablet in the optimal position for any situation. Made of a clear-plastic material, the iTab_Grip comes with a series of ring grips to fit most hands.
LostDog: The Genuine Leather Cover (iPad 2; $70) is made of 100 percent hand-crafted animal hide—of the premium variety, according to the company. The case supports the tablet at six different angles in either landscape or portrait orientation, and it's built to be durable and lightweight.

The dark-blue Protecting Pouch (iPad 2; $39) is, as its name implies, designed to keep your iPad 2 safe from dust and minor bumps while you're carrying it around. Made of hand-crafted premium microfiber, the Pouch is large enough to fit an iPad with Apple's Smart Cover; the Pouch features an additional A4-sized sleeve for papers and a dock-connector cable or other small accessory.
Saddleback Leather: This company's iPad 2 Case ($104) covers your tablet in rugged luxury thanks to full-grain boot leather; industrial-gauge, marine-grade thread; pigskin lining; and no breakable parts. (You get a 100-year warranty, in case you're wondering.) The cover even flips around to help prop the iPad for landscape-orientation viewing. The case is available in chestnut, coffee brown, tobacco brown, and clack.
iPad (1st generation) Family