Whenever I receive important paperwork, sales receipts, or the like, one of the first things I do is scan the paperwork into my MacBook. I lose things easily and I want to refer back to these documents quickly if necessary. As more businesses transition to largely paperless offices, they'll likely seek out Mac programs like DevonThink Professional Office, which makes organizing files—and paperless offices—obtainable.
DevonThink makes organizing your stuff easier. Between documents, PDFs, and smart folders, it's easy for a Mac to overflow with information. DevonThink Pro Office uses databases and tags (which we've seen before), to help wrangle all of your files.
Although you can create as many databases as you'd like in DevonThink, I created two for review purposes, a personal and a professional database. I then sorted most of the documents on my Mac accordingly. I imported several important files, documents, and PDFs and let DevonThink do the rest using its default settings.
The primary reason DevonThink can be valuable to paperless offices is its support for OCR, which translates text from scanned documents and PDFs into searchable text. As mentioned earlier, I routinely scan important documents into my Mac so I was eager to test this feature. To do so, I imported my original iPhone 3G purchase receipt from 2008 into the application. The iPhone sales receipt includes information such as the street address of the store where I bought the phone, information that exists only on the scanned receipt and not in the file name or tags associated with the document. After importing the receipt into DevonThink, the OCR feature allowed me to search for the street address of the store and the other text on the receipt as well. In subsequent testing the OCR feature worked as advertised.
The OCR feature is huge for offices seeking to go paperless. Assuming many offices do as I do and scan important documents into a hard drive, the ability to create searchable databases of thousands of physical documents is arguably the most important feature of DevonThink. The fact that the feature works as well as it does is equally important to its viability in an office setting.
Tags are also prevalent throughout DevonThink and compliment the OCR scanned documents. The app contains a separate tag browser that makes finding files easier, provided that you tagged them when you imported them, of course. DevonThink also includes a number of smart groups (you can add others, too) for easy reference as well.
One of the DevonThink's other main features is its ability to archive emails through its import program. DevonThink supports Apple Mail and Microsoft Exchange, as well as other popular Unix-based programs such as Mozilla Thunderbird.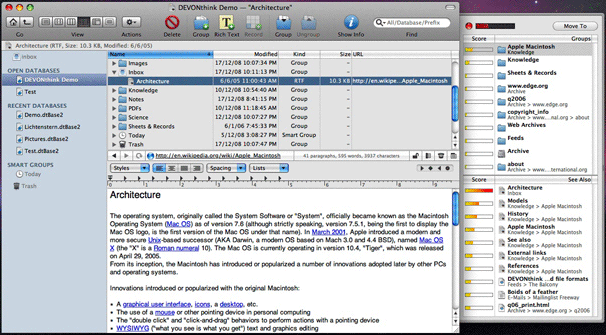 Although DevonThink is a full-featured program, it comes with several ancillary plugins that extend its usefulness beyond the actual DevonThink program itself. One such plugin is the DevonThink dashboard widget, which allows users to input notes quickly. Another option is the "clip to DevonThink" extension available to both Safari and Firefox users. Neither option requires the DevonThink program to be open to work.
DevonThink is at its heart a very customizable program, which extends to the visual layout of the app, too. It offers six different visual options including folder, list, and browser pane views similar to those in the new Apple Mail. No matter which view you choose, the search bar is always visible in the top right. A separate search function is also available for Boolean searches.
While DevonThink offers users a high level of control over their documents and databases, it does contain several drawbacks. For one, DevonThink can be a complicated program. It can be hard to find what you're looking for amidst menus and options screens, which abound everywhere. Thankfully the developer has included a tips-and-tutorials screen that loads automatically by default whenever the app is opened.
I also experienced several small bugs while testing DevonThink, most notably when the application somehow unlicensed my copy while I was using a different program. I added my license again in a minute or two but this is an irritating bug to anyone seeking total reliability for their now paperless office.
DevonThink Pro Office is compatible with DevonThink To Go, a universal iOS app that costs $15, but I did not test this companion program for this review.
Macworld's buying advice
Overall, DevonThink is a fine file management app that offers easy to use, paperless databases for power users or businesses. While it may take some time to learn how to unleash DevonThink's powerful potential, the time can be worth it for users interested in truly taking the paperless plunge in their offices.
[Brendan Wilhide is a Macworld contributing writer.]