Despite text messages, email and a constant stream of notifications, it's still pretty easy to forget things these days. TellMeLater from Sixfoisneuf42 is a helpful iPhone app that makes it easy to remember things by offering a simple yet effective take on task management.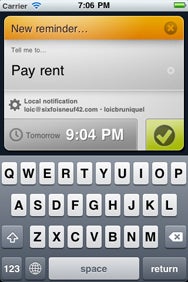 Think of the $1 TellMeLater as a set-it-and-forget-it task management app. When you launch TellMeLater, you'll notice a large green New Reminder button at the bottom of the screen. It's easy to spot—it's the only button in the app.
Tap New Reminder to summon the reminder screen, where you can set new reminders or adjust existing reminders. Each reminder includes a due date and notification options. Local notifications are enabled by default. Additional notification options, including emails and reminder tweets, are available but disabled by default. You can save notification defaults for all reminders so you really only need to set notifications once.
TellMeLater handles due dates in the familiar "scroll wheel" template present in so many iOS apps. You can enter in single reminders or recurring reminders by the day, week or month.
While local notifications are helpful, TellMeLater really shines because of its support for email reminders. For example, if I want my girlfriend to remember to pick something up at the store, I can remind myself on my iPhone and send her an email in case she gets to the store before I do. The app will alert both of us at the same time since one notification is local on my iPhone and the other is sent to her email address. TellMeLater does not support email notifications to multiple addresses, however.
TellMeLater is a great little app for all those times you want to remember something later, especially while running errands. Its simplicity and ease of use make TellMeLater stand out as an effective time management app for iOS.
[Macworld contributor Brendan Wilhide covers the sports industry and social media on Sportsin140.com.]