Gamezebo reports that a recent spate of trademark applications with the U.S. Patent and Trademark Office on August 9 not only pointed to the existence of a wide variety of new "…With Friends" games, but that a company who isn't Zynga was hoping to get in on the asynchronous action.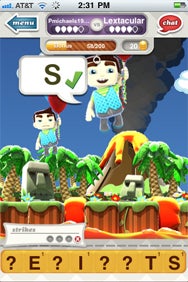 Hanging, Words, and Chess With Friends on iOS and Android are some of the most popular gaming apps on mobile platforms thanks to their ease of setting up asynchronous online matches. This means that players don't both have to be online at the same time in order to play the turn based games, and can take their turns at their convenience, the apps notifying the other player when it's their turn. Chess and Words were both developed by Newtoy, who was later acquired by Zynga. Hanging With Friends is the most recent entry in the series, and has enjoyed widespread popularity with mobile gamers worldwide.
It's fair to say, then, that Zynga probably feels that it has some degree of ownership over the "…With Friends" brand. As such, back in July, Zynga applied for trademark rights on the "With Friends" mark.
The new spate of applications, however, which include Farkle, Gin Rummy, Canasta, Yacht, Mahjong, Cribbage, Backgammon, Dominos, Pinochle, Solitaire, Sudoku and Crosswords With Friends, appear to have been filed on behalf of a company called Roxy Friday LLC. This company is believed to have connections to inXile Entertainment's Brian Fargo, who told a VentureBeat reporter that he was keen for his company to enter the online social "games as service" marketplace—a sector which Zynga dominates.
iOS 5, due out this fall, looks set to incorporate a unified asychronous games solution, allowing players to check their turn status in all their games at once without having to launch each app individually. As such, we can likely expect a sharp upturn in the number of games taking the "…With Friends" approach—and it looks as if Roxy Friday, inXile and Brian Fargo are hoping to capitalize upon that. We can probably expect Zynga to respond to this encroachment on what it likely sees as its "turf" in fairly short order.