Memonic for the iPad and iPhone combines a standalone app, Web-based service, and Safari bookmarklet to enable you to save material from the Web, take quick notes, save bookmarks and entire Web pages, organize disparate content from a variety of sources, and share what you've gathered and noted with others, either in whole or in part.
In addition to the iOS version, Memonic apps and programs exist for a slew of other platforms, including the Mac, Windows, and Android, while the developer provides browser bookmarklets and/or extensions for Safari, Internet Explorer, Chrome, Opera, and Firefox.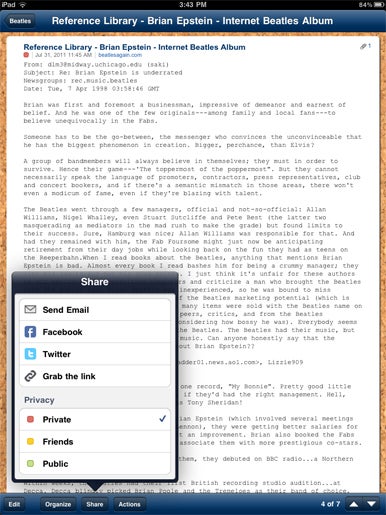 Some of Memonic's power lies its syncing capabilities, which are excellent; content and the folders and tags I created to organize material were available via the Mac OS program, the iPad and iPhone apps, and my online Memonic account with little delay, and without a hitch. The app enables you to have items synced automatically or not, and also offers an option for automatic syncing only when you're connected to a Wi-Fi network.
Memonic also works very nicely for saving brief notes, which can include text and photos (but, alas, no formatting capabilities are provided).
The standalone iOS app is very well organized and easy to use. Unfortunately, the bookmarklet—which is the mechanism for gathering Web content—leaves much to be desired. Creating the bookmarklet within Safari and placing it in the bookmarks bar takes just a few minutes and is not difficult; the developer provides clear instructions for this process.
But using the bookmarklet is a different story. Activating it, selecting from among the drop-down menu's items, and then highlighting content to save require a special touch, literally. Only after using Memonic for many hours was I able to, on a fairly consistent basis, apply the particular pressure at the proper angle to carry out each function. Even then, sometimes if I didn't touch just so, the page would zoom in or out, or an item might not be selected.
Pressing the bookmarklet activates a drop-down menu offering options to clip content, read the page later, save a bookmark, write a note, or use "gathering mode" (available only if you've paid for a premium subscription). The menu appears up at the top of the Web page, and stays there until you're done using it on that page. This behavior is baffling, both logically and in terms of usefulness. Ideally (and typically) menu items of this sort will appear at the top of the browser window, meaning that the menu is visible and usable no matter where you have scrolled to on the page. In fact, Memonic works this way on the Mac—the menu is always visible.
(Regarding the menu options: the difference between selecting "Read Later" and "Bookmark" is not evident: both actions result in the clipping of the page's headline, a line or two of content at the top of the page, and a link to the page.)
The first few times I used the bookmarklet, I was not near the top of the Web page, and, therefore, I had no idea that the menu had dropped down and was available, because it was invisible. Some trial-and-error revealed that by scrolling up, the menu could be used, but having this knowledge didn't make the need to seek out the menu any less inconvenient.
After selecting material, you tap the Save button in the menu. Subsequently, a submenu offers an opportunity to organize what you've just saved (by assigning it to one of your folders or assigning a tag, for example). The submenu disappears so quickly, though—in less than a second—that I was never able to react quickly enough to actually use it.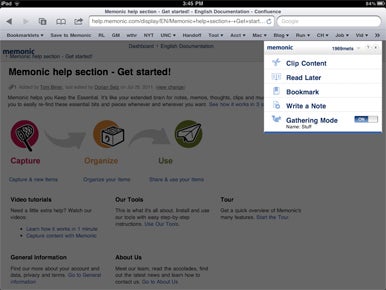 On the iPad and iPhone, the Memonic bookmarklet is designed to work with Safari. Developer Nektoon Inc., on the Memonic website list Safari as the only iOS browser supported, but add that "the bookmarklet may still work" with other browsers. An attempt to use it with iCab Mobile on the iPad seemed to be successful—the bookmarklet installed properly, and, when pressed, activated Memonic's web clipper, which seemed to function as it did with Safari. However, the content I selected was not saved.
Using the app itself is, for the most part, a pleasure: Organizing and reorganizing items with folders and tags is simple, requiring little or no learning curve. You can easily search your collection, and you can email individual items or share them on Facebook and Twitter. You can choose to keep items private, share them with friends, and even make them public.
But the iPad and iPhone edition of Memonic lack a few basic sharing capabilities that are available on the Mac and also via your Memonic Web account. One is the ability to select multiple items to share simultaneously. On the Mac and on the Web, you click checkboxes next to items; those checkboxes aren't available in the iOS app. You also can't share an entire folder of items via the iOS app.
Memonic accounts come in two flavors: a basic, free account that enables you to save up to 100 notes and limits file sizes to 2MB (along with other limitations), and premium account. For $28 a year, a premium account allows for an unlimited number of notes, and files up to 20MB in size; it also enables you to use "Gathering Mode" when collecting Web items, which makes things a bit more convenient by allowing you to specify that all items be placed in a specified folder.
While Memonic has some noteworthy flaws, it shows a lot of promise. The iOS apps, the Web interface, and the Mac program are well-designed and tightly integrated. The sharing capabilities have been well thought out, and could prove especially useful for bloggers and Facebook devotees. For students, writers, and others who find themselves frequently gathering material from many different Web sources—material that is likely to require organizing and possibly a great deal of reshuffling—Memonic is more than worth a try. Whether it's worth shelling out $28 for a premium account is another matter. Evernote, especially, is a tough competitor. While it lacks some of Memonic's capabilities Evernote boasts many features, even in its free version, that Memonic lacks and that may prove indispensable to many researchers.
[Jeff Merron is a freelance writer and editor living in North Carolina.]