Brightly colored landscapes, intriguing sea life large and small, and the shadowy hulks of rusting shipwrecks are only some of the photographic subjects that await you and your underwater camera. There are few places more beautiful to photograph but, like scuba diving, underwater photography requires an understanding of this strange but intriguing environment.
Equipment choice is, of course, an essential part of underwater photography. Beyond that, however, it's important to understand some of the challenges you'll encounter under the sea.
Let there be light and color (or not)
Perhaps one of the most critical lessons to learn is that water is almost 800 times denser than air. In and of itself, that fact may seem like an irrelevant bit of trivia, but it has a profound effect on underwater photography.
Water absorbs light, which means that individual colors (each represented by a different wavelength) disappear as their respective light waves are absorbed. Red is the first to go and totally disappears by a depth of about 15 to 20 feet. Orange is next, followed by yellow, which is why pictures taken without a flash look either blue or green. The only way to bring back color while you're underwater is to use a flash or other artificial light source.
If you're using the camera's built-in flash, it should be set to forced on, and the housing's plastic flash diffuser should be put in place (if available) when the camera-to-subject distance is no more than 3 to 4 feet (the flash has to go from camera-to-subject and back again, no easy feat). When shooting at a distance of 4 feet or more, the flash should be turned off. It won't be effective and, more importantly, the light will bounce off the ever-present particulates in the water and create backscatter—an effect that looks like the photo was taken in a snowstorm.
One or two external strobes, on adjustable arms, can be added to some housings, providing broader and more powerful coverage. Strobes can be angled so that the light doesn't hit the particulates straight on. That way, you can better illuminate the subject and avoid backscatter.
When shooting with flash, you can set white balance to auto, daylight (recommended), or flash. Without flash, white balance choices include: underwater (available on some compact models), cloudy, or custom. Underwater and cloudy settings will help compensate for the overwhelming blue cast. For custom, use a white diver's slate to register manual white balance and be sure to change it every 10 to 20 feet, or as the light changes. Shooting in RAW or RAW+JPEG is another option, although you should be comfortable using Adobe Camera RAW or a similar program that comes with your camera for post-processing.
Distance and exposure
Water density, along with water clarity, also affects contrast, sharpness, and other image attributes, so it's important to get as close to the subject as possible. That's why wide-angle and macro are the two most appropriate focal lengths for underwater photography. Even without a flash, shooting through large spans of water is somewhat like shooting through a dirty window.
The best time of day to shoot underwater is between 10 a.m. and 2 p.m. when the sun is highest in the sky. Keep your ISO as low as possible to avoid image noise, but be sure it's high enough that your shutter speed is at least 1/125th of a second when shooting without flash. For macro shots, adjust the aperture whenever you can to a high number (small aperture) for the greatest depth of field. If your camera doesn't have manual exposure controls, adjust the ISO until the desired shutter speed or aperture has been achieved (the settings should appear on the LCD when you half-press the shutter).
Focusing and metering
As long as there is sufficient contrast, autofocus should work just fine—spot focus or center focus settings work well. You can always attach a small dive light to the housing as a modeling light to assist with AF if necessary. It's probably best to avoid continuous AF though, since it can be easily fooled and will put an extra drain on the battery.
If your camera has a manual focus option, learn how to use it. Just keep in mind that if you measure focus by a distance scale, everything looks 25 percent closer underwater than it really is.
Like autofocus, spot or center-weighted are the best options for metering. And it's always a good idea to fill the frame with your subject whenever possible.
Simple concepts
Underwater photography can be point-and-shoot simple but these tips will help you capture better-than-snapshot photos. Get comfortable with your camera and housing and practice as much as possible.
Just remember to work in wide angle or macro, get close to your subject, be mindful of when to use flash and adjust your white balance accordingly, and you'll be on the road to bringing home great photos of your underwater adventures.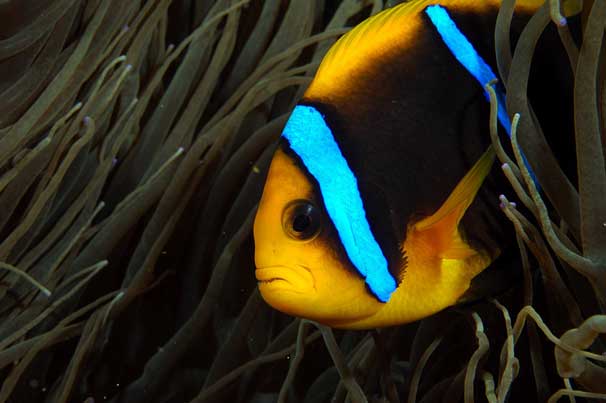 Tips for selecting an underwater digital camera
While you already knew what you wanted when you chose your current camera, the focus is somewhat different when selecting a digital camera for the aquatic environment. Here are some of the major items to look for. Be sure to check with your camera vendor to see if it offers an underwater housing for the model you already have.
Large, bright (ideally with brightness adjustments), high resolution LCD. Avoid touchscreens unless manual controls are also available.
Long battery life
Wide-angle lens (e.g., 24mm); double-check to make sure that the housing provides a full angle of view for the lens at its widest setting.
A macro mode that focuses down to a minimum of a couple of inches
Underwater and/or manual white balance options
Good low light/low image noise performance
The ability to display shutter speed and aperture settings on LCD, even if it's a point-and-shoot model
Manually selectable focus points (optional)
Adjustable flash power (optional)
Manual focus (optional)
The ability to enlarge a section of the image to check focus before capture (optional)
[Theano Nikitas, a full-time freelance writer and photographer, has been writing about photography for the past 19 years. Her digital imaging reviews, features, how-to articles, and images have appeared in a wide variety of publications and websites. Her first underwater photos were shot with a Nikonos IV.]
Note: This is the second of a two-part series on underwater photography. Part one, which ran yesterday, talks about how to choose an underwater housing for your camera.