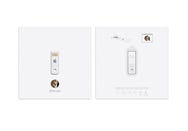 Broadband-choked masses, rejoice: You too can enjoy Lion, Apple's newest Mac operating system, as the company on Tuesday released an official $69 USB thumb drive installer.
The OS X Lion USB Stick was announced when Lion shipped back in July; now, anyone can purchase the $69 drive from the Apple Online Store, though the product description highlights those without a broadband connection as Apple's primary focus.
The Lion installer drive—which resembles the USB thumb drive packaged with the previous iteration of the MacBook Air—functions almost-identically to its Mac App Store compatriot, with one exception: According to Apple's, those installing Lion from the USB stick will not be able to reinstall Lion using Lion Restore. Instead, if your computer runs into a problem, you'll need to boot from the USB stick to address it (or bring it into your local Apple Store).
Alternatively, if you want a boot drive on hand but would prefer not to shell out $69 for it, check out Dan Frakes's tutorial on creating your own boot disc or drive using the Mac App Store Lion Installer, or his walkthrough on using the Lion Recovery Disk Assistant. Or, heck—both!
If you're planning on using the USB installer to upgrade to Lion, keep in mind the system requirements. You'll need a Mac running OS X 10.6.6 or later with a minimum of 2GB of RAM, 8GB of free hard drive space, and one of the following Intel processors: Intel Core 2 Duo, i3, i5, i7, or Xeon (early Intel-based Macs with Core Solo or Core Duo processors aren't eligible). You can determine your Mac's processor and the amount of installed RAM by choosing About This Mac from the Apple menu and looking at the Processor and Memory lines, respectively. You can also check out our article on prepping your Mac for Lion for more information.
Updated 8:43am to clarify reinstall limitation of USB stick.