At a Glance
Expert's Rating
Our Verdict
For power users, keyboard shortcuts are a must. Mac OS X's own Keyboard pane of System Preferences serves well enough for assigning key combinations to menu items, but for more complicated fare—without the complexity of something like QuicKeys or Keyboard Maestro—look to Nulana's Shortcuts.
Available from both Nulana's Website and the Mac App Store, Shortcuts seeks to complement OS X's Keyboard pane, rather than replace it. The utility lets you add key combinations for launching applications; opening websites, files, and folders; and running AppleScripts and shell scripts. In addition, Shortcuts allows you to add alternate keys for system functions you can't remap—for example, iTunes playback controls, your screen's brightness, keyboard backlighting (on laptops), and enabling and disabling the screensaver.
You control and configure Shortcuts from a systemwide menu. Within the program's preferences window, you'll find your list of shortcuts, organized by category. Within each category, you can view, add, or delete shortcuts. Adding a key combination requires a mere few keystrokes: Just click the plus (+) button; select the application, file, or executable script (or type or paste the website URL) you wish to associate with the shortcut; then provide the desired keyboard shortcut.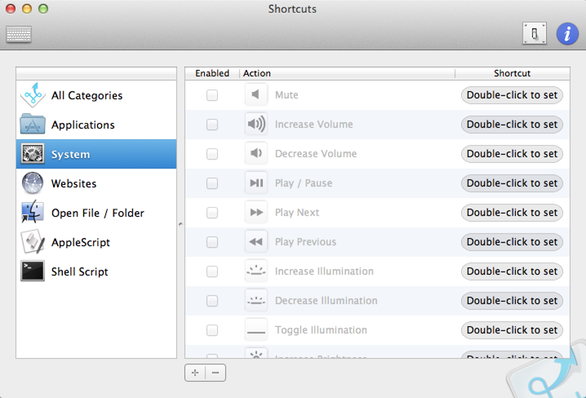 Shortcuts makes this process simple and sweet. It may not meet the needs of advanced users with multi-tiered automation on the brain, but it's a wonderful add-on for those needing just a bit more than what Apple provides.