At a Glance
Expert's Rating
Pros
Durable construction
Good performance for the price
Fun creative filters
Cons
Battery life is only fair
Our Verdict
The Canon PowerShot A3300 IS is a solid sub-$200 point-and-shoot camera in more ways than one: It has a sturdy build, and it takes good-looking pictures for a camera at such a low price ($180). As with many lower-priced cameras, you don't get the manual controls, long-zoom lens, or kitchen-sink extras you'd find in higher-end models, but you still get an impressive array of shooting modes, an optically stabilized wide-angle zoom lens, and good performance for a $180 camera.
Hardware and design
The 16-megapixel PowerShot A3300 captures images and 720p high-definition video with its 1/2.3-inch CCD sensor, tucked behind a 5X-optical-zoom lens that reaches from 28mm wide angle to 140mm telephoto (in 35mm film equivalent). Optical image stabilization is a nice plus for the price, as many cameras we've seen in this price range offer digital stabilization only (or no stabilization at all).
The PowerShot A3300's control scheme is straightforward and easy to use, especially if you're familiar with Canon's standard point-and-shoot interface. Along with the power button, shutter button, and zoom control on the top, the camera has a mode dial with eight selections: Auto mode, a bare-bones "Easy" mode, a "Live View Control" mode that simplifies brightness and contrast adjustments, a "Discreet" mode that turns off the flash and camera audio, scene selections, creative filters, 720p movie mode, and a Program mode that lets you manually set ISO, white balance, metering modes, and exposure compensation.
You can reach even more shooting options, and navigate the on-screen menus, through a number of buttons on the back of the camera. Next to the PowerShot A3300's 3-inch LCD screen are four more buttons and a directional pad circling a function button. The camera has dedicated buttons for face detection, playback, display options, and accessing the menu; the four corners of the directional pad work as one-touch access to exposure compensation, macro mode, flash controls, photo deletion, and the self-timer settings.
Shooting modes and features
A handful of special shooting modes make the PowerShot A3300 IS stand out in the realm of sub-$200 digital cameras. The A3300 IS offers quite a few ways to snap photos in low light, and macro mode is also very effective: You can get within an inch of your subject and still snap a crisp shot.
Although the A3300 IS doesn't offer manual focus or exposure options, aperture priority mode, or shutter priority mode, the camera does have a long-shutter scene mode that lets you manually select shutter speeds ranging from 1 second to 15 seconds. As with any long-shutter option, you'll need a tripod or a flat surface to ensure that the resulting image isn't a blur.
Another low-light option is the camera's Low Light scene mode, which combines adjacent pixels on the sensor to avoid noisy high-ISO shots while reducing the resulting image resolution to 4 megapixels. While it certainly does the trick in terms of creating a usable low-light snapshot, don't expect the most accurate colors or the sharpest images out of this mode; in my hands-on tests, it cast a yellowish hue over low-light scenes, and images showed quite a bit of grain when I enlarged them at all.
In addition to a full complement of common scene modes (Landscape, Portrait, Fireworks, Snow, and the like), the PowerShot A3300 IS provides creative filters that overlay fun effects onto your images. A fish-eye-lens simulator, a "miniature mode" that mimics a tilt-shift lens, a toy-camera filter, a monochrome mode, and a high-saturation "poster effect" mode are all in the mix. The miniature mode in this camera adds a few more tricks, as well, allowing you to adjust the focal plane in your shot with the camera's directional pad; you can also apply the effect to video clips.
Another unusual feature, especially for the price point, is the camera's Discreet mode, which lets you take shots without the camera's sounds, flash, or autofocus beam enabled. This mode might come in handy for weddings, wildlife photography, and any other scenario where the sound and light coming from the camera would bother anyone around you.
Performance, image quality, and video quality
In our lab's subjective tests for image and video quality, the Canon PowerShot A3300 IS fared very well for a low-priced camera. It earned a score of Good for both exposure quality and color accuracy, and a score of Very Good in the areas of sharpness and distortion. The A3300 IS's built-in flash is especially well tuned, producing evenly exposed images with the flash enabled, even though colors–especially reds and oranges–look a bit more vibrant than they do in the real world. At the maximum 16-megapixel size, images also exhibit quite a bit of grain, but they look crisp and sharp at the sizes you'd use for most Web-sharing purposes.
You can see the sample images we used for our subjective tests by clicking on any of the thumbnails below.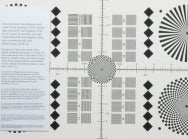 The PowerShot A3300 shoots good-quality video, although its video-quality score of Good was weighted heavily toward its performance in well-lit situations. The camera didn't brighten up our low-light test scene enough for us to see what was going on–and during our hands-on tests, we encountered some odd jumps in automated white balance when recording with the camera in unevenly lit situations. All in all, it's a very good performer for its price in both stills and video, and its overall performance score rivaled that of some much higher-priced cameras in our lab tests.
You can watch the bright-light and low-light test clips we used for our video testing below. Select 720p in each player to see the highest-quality footage.
Battery life is one of the PowerShot A3300 IS's relatively weak spots, as the camera is rated for 230 shots per charge of its lithium ion battery. That falls in the Fair range for our battery-life scores.
Macworld buying advice
Canon's entry-level A series of PowerShots has long been known for its balance of solid performance and low price, and the PowerShot A3300 IS is no exception. It's easy to use, it takes good-looking photos without any hassle, and it even throws in a few higher-end creative modes to play around with. Usually, you get what you pay for. In this case, you get quite a bit more than you'd expect out of a sub-$200 camera.