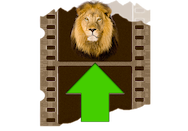 Kagi, a popular payment processor for independent software developers, recently began selling a $5 Lion-compatibility patch for the discontinued-in-2008 VisualHub video converter that the original software's developer says he didn't authorize—and isn't getting paid for. Kagi defends the move, arguing that it's merely helping less tech-savvy customers that the developer abandoned.
Years ago, Tyler Loch's one-man development shop Techspansion sold various media utilities for OS X. Among them was VisualHub, for converting movies between oodles of formats. It was a sad October 2008 day when Loch decided to shutter Techspansion's virtual doors. Though Loch no longer offers support for VisualHub, he did post updated files and instructions for getting VisualHub working on Lion.
After getting complaints from customers about Lion compatibility, however, Kagi—VisualHub's former payment processor—decided to offer its own vHub Updater for VisualHub patch for $5, without informing Loch.
VisualHub customer Lon Seidman received Kagi's email about its $5 updater, and at first thought the update was an official one from developer Loch. He told his story to The Unofficial Apple Weblog, which subsequently ran a story on Tuesday titled " Why you should not be paying for VisualHub."
I was a VisualHub customer too; I got Kagi's email. I initially assumed that it was an official patch from Techspansion. So when I spoke to Kagi CEO Kee Nethery, it was as both a customer and a Macworld reporter.
Nethery explained that the $5 updater Kagi now sells merely wraps the updates that Loch offers on his own site in a more usable interface. Loch's instructions for updating VisualHub require copying a trio of AppleScript files into the app's package contents; he also recommends installing an updated copy of the open source conversion utility ffmpeg.
According to Nethery, Kagi's software "downloads his patches, and we also download the new ffmpeg," installing all necessary files without additional user involvement. The updater avoids altering your original copy of VisualHub, instead creating a duplicate application called "VisualHub Lion."
I asked Nethery whether Kagi had spoken to Loch before offering this streamlined version of the developer's freely-available updates. "We didn't," Nethery said. He explained further: "When he says that he's not providing support—he doesn't respond to our emails. We've stopped trying to contact him. He basically fell off the earth in 2008, so we didn't even bother to try to contact him."
In an email to Macworld, Loch offered a different take: "Every correspondence with Kee at Kagi had been replied to. His last email to me was in October 2008. In fact, I had most recently spoken to their VP of Sales on July 22nd of this year. No mention was made of vHub Updater… I did not give [Kagi] permission to repurpose and redistribute the VisualHub components."
On his website, Loch added this message: "Techspansion is not affiliated with the product 'vHub Updater' by Kagi. 'vHub Updater' makes unauthorized use of our copyrighted code. We do not support 'vHub Updater' and do not recommend its use. We did not consent to Kagi's use of our customer contact information for 'vHub Updater' mailings."
But Nethery sees things differently. "Kagi sold VisualHub to many many people [and] has been getting many calls from people who upgraded to Lion, and then found out that VisualHub no longer works," he said. "We initially directed our customers to Tyler's update page… but we have learned that [the instructions] are way beyond the comfort level of a great many Macintosh users."
Had Kagi considered adding a link to Loch's site (with its free update instructions) in either the vHub Updater email or website, so that those comfortable with the advanced process could save $5? "We did think about installing the link," he said. "It was a big philosophical discussion, and we've sort of fallen into the camp that Apple falls into: Less is better… We said, 'Let's just have one button'; if they haven't already found out about Tyler's updater, they probably are not in the realm of people that would be comfortable doing that. And so, rather than do that, we figured we wouldn't mention it."
Nethery added that, at its $5 pricepoint, the vHub Updater would at best break even. "We would be pleased if Tyler was to release an updater that performs the function that our vHub Updater performs," Nethery said. "His users deserve better than to be completely abandoned in 2008 and to be asked to be technical enough to edit an application package. We just want the customers to get the support they deserve."
For his part, Loch pointed out that—though open-source forks of the code at the center of VisualHub exist—"VisualHub, as it exists in the world, is not. I gave no permission and had no prior knowledge of Kagi hosting, redistributing, and indirectly selling the components I wrote in [vHub Updater]."
Loch said he's in touch with Kagi "to see how we can resolve this." VisualHub customers should note that on his webpage, Loch hints that future updates to OS X may break VisualHub beyond repair. Until then, you can choose to follow his free instructions for maintaining compatibility as long as possible, or pay for Kagi's $5 patch. Whichever route you choose, remember that because Loch isn't promising any further development—and hasn't since 2008—the software's functional days may be numbered.
Updated 2:34 p.m. ET with comments from Loch.