I like Instagram, and considering the app hit its 150 millionth photo upload earlier this month, I'm certainly not alone. But the number of available photo sharing apps— Trover, Photogram, and Color, just to name a few—is so exhausting that when a new one comes out, it has to be genuinely unique and well-done. Even then, success isn't guaranteed.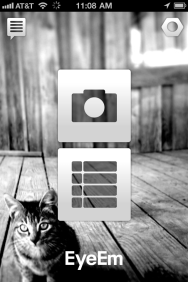 EyeEm, launched from the Germany-based startup of the same name, is a new social photography app that hopes it can fill a gap in the overpopulated market. EyeEm's basic concept is similar to Instagram's: Share your photos with friends; add lo-fi filters at will. What's unique about EyeEm is its tagging system, which makes it easy to describe photos and connect with other users who have similar photographic interests.
The app automatically guesses the activity and location of a photo. For instance, I took a photo of a my computer at work and the app automatically tagged the image with Checking in, IDG Headquarters, San Francisco, and USA. You can change the tags to other activities such as, Relaxing, Working, Checking In, Hanging Out, and Having Fun. After the image is loaded into your feed, you can view similar photos by tapping on one of the tags. Tapping "San Francisco" directs you to a feed of all the EyeEm photos tagged with San Francisco, which you can then choose to follow.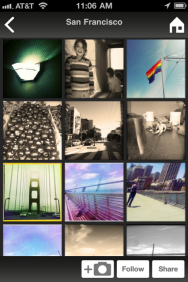 EyeEm also has a great- looking interface. The app's home page consists of a camera icon, to take photos, and a feed icon, where you can see photos from the users and tags you're following. When going through a feed, photos are displayed in thumbnail format (larger than on Instagram) against a dark gray background. You can click a photo to enlarge it, where you will also find a comment thread and the number of likes the image has received. Photos are displayed beautifully, and the app appears more professional than its competitors, the way 500px compares to Flickr.
While in camera mode, you can scroll through the ten built-in image filters in real time, before actually taking a photo. I really liked the dynamic feeling of this feature. Even though these filters are available, what's surprising is that most of the photos in EyeEm's popular feed look filter-free. A lot of images are actually uploaded DSLR shots, rather than photos taken with a smartphone.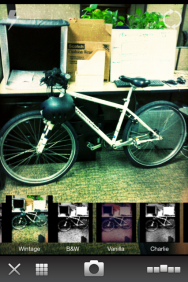 EyeEm has a lot of potential, but the app is still buggy. Mainly it's slow: images, image feeds, and the in-app camera all take a while to load, making the experience somewhat frustrating. Creating custom tags is also difficult, and it's impossible to add a custom image description within the app (you can, however, do this if you upload images from EyeEm's website). If EyeEm hopes to compete with the major photo-sharing apps, it will need to make sure it's as technically smooth as its interface looks.
[Alexandra Chang is a Macworld staff editor.]