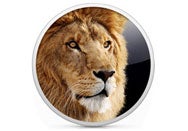 Apple late Tuesday released Mac OS Lion 10.7.1, the first incremental update to the Lion operating system released late in July.
Apple says that the update includes general updates for improved stability, and calls out a few specific bug fixes. A bug that caused some Macs to become unresponsive while playing a video in Safari is fixed, as is a bug that could cause system audio to stop working when using HDMI or optical audio out. Bugs that prevented the proper transfer of data, settings, and compatible applications from older Macs to a new Mac running Lion are corrected, as is a bug where an administrative user account could go missing after upgrading to Lion.
Additionally, Apple says that this update improves Wi-Fi connection reliability.
Even though you probably bought Lion in the Mac App Store, you get your operating system updates the same way you always have—via Software Update, or directly from Apple's Support Downloads site. Note that Apple is making unique updaters available for 2011 models which shipped with a slightly different version of 10.7 than the version from the App Store; a 10.7.1 update for MacBook Air and Mac mini 2011 models is available in addition to the general 10.7.1 updater.
Apple also released the 10.7.1 update for Lion Server, which addresses the same issues.