Autodesk has released a trio of new software applications and upgrades for the Mac: AutoCAD 2012 for Mac, AutoCAD LT 2012 for Mac, and AutoCAD WS for Mac. All are compatible with Lion and Snow Leopard. All feature multi-touch capability for intuitive pan and zoom and cover flow for graphical browsing of design files. AutoCAD LT and AutoCAD WS are available only from the Mac App Store.
With their support for creating and editing files within the DWG file format, AutoCAD 2012 and AutoCAD LT 2012 give users an easy, cross-platform way to collaborate with suppliers, customers, clients, and partners. Files created in previous versions of AutoCAD or AutoCAD LT are compatible with the current Mac versions of the products.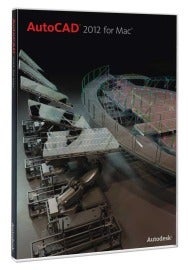 While AutoCAD returned to the Mac with great fanfare in 2010 after a 16-year absence from the platform, this is the first time Autodesk has offered Mac desktop versions of its AutoCAD LT drafting tool and AutoCAD WS, the review and collaboration application. AutoCAD WS has been available as a mobile app since last year, but the new version offers desktop functionality on the Mac for the first time, enabling people who don't own AutoCAD to read and edit files created by the program.
AutoCAD 2012
AutoCAD 2012 features familiar AutoCAD capabilities, such as 2D and 3D design tools, and now includes 3D free-form modeling, 3D visualization and rendering, menu customization, and support for LISP and ObjectARX and ObjectDBX applications.
"…AutoCAD 2012 is more stable, higher performing, and more feature-rich than the 2011 version," said Rob Maguire, senior product manager for AutoCAD. "The 2011 version had new-product kinds of issues—version 1.0 kind of stuff—and this is a much more stable and mature product. It's kind of a stabilizing release where we fill out the feature holes. People using 2011 could use 2012 seamlessly, and probably should upgrade immediately."
AutoCAD 2012 offers a host of additional new features to improve usability, documentation, design, communication, and licensing. Some new features are designed to achieve parity with the Windows version of the program. Major new features include auto-complete command entry, multi-function grips, associative array functionality, creating previews, and PDF export capability. The new version of AutoCAD offers a choice of licensing options, including network licensing, which is designed to simplifly software asset management and provide more cross-team flexibility. Users can now choose a mixed network license that includes PC and Mac users. AutoCAD requires a Mac running OS X 10.6.4 or higher.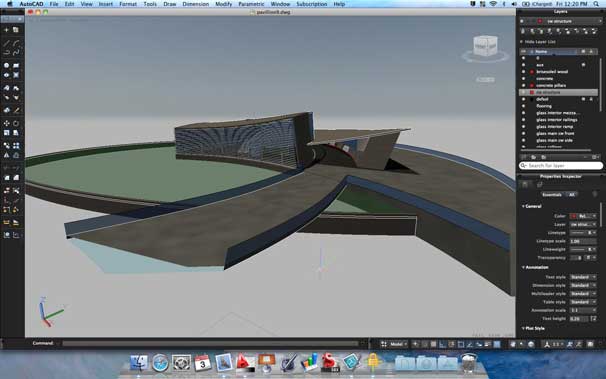 AutoCAD LT
AutoCAD LT, which makes its debut on the Mac, focuses on a 2D workflow that lets users document designs, optimize workflow, and collaborate with colleagues and clients.
AutoCAD LT is targeted to designers, architects, and engineers who need to create, edit, or review designs, technical drawings, and documentation. The program follows common Mac application user interface guidelines, with a number of workflow-based palettes.
"The LT version is a big deal because it's considerably cheaper for people who don't need to do 3D modeling and materials and rendering and extensive customizations. That's one of our most popular products," said Maguire. AutoCAD LT requires a Mac running OS X 10.6.6 or higher.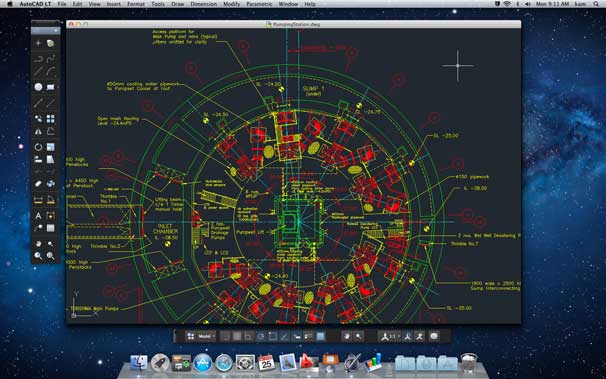 AutoCAD WS
AutoCAD WS lets users view and collaborate on DWG files via the Mac interface, in addition to the iPhone and iPad. AutoCAD WS users can plot DWG files to PDF or DWF formats and sync with their cloud-based AutoCAD WS account to access files from the AutoCAD WS mobile app.
Like the AutoCAD WS mobile app Autodesk released last year, which is also updated with this release, AutoCAD WS for Mac is an easy-to-use free app that provides basic tools for viewing, editing, and sharing designs. The program's synchronous coediting feature lets users collaborate on designs across multiple platforms—desktop, mobile, and Web.
The new Mac version may wind up replacing the browser-based version on the Mac, for some users, said Maguire. "Multitouch is a huge deal in all three applications, and the fact that WS has it in a free native application is reason enough to use it over the browser-based version."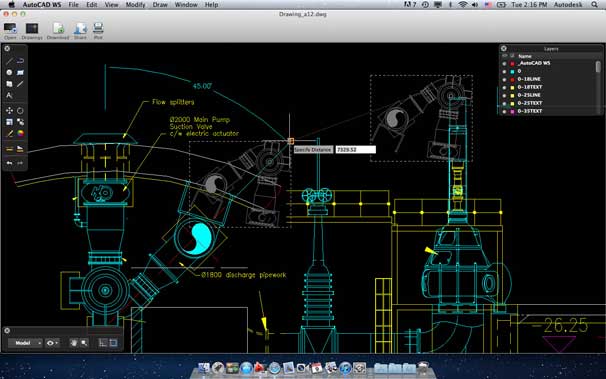 Pricing and App store exclusives
AutoCAD 2012 and AutoCAD WS will be available worldwide on August 19. AutoCAD LT for Mac was available in the U.S. and Canada as of August 16. AutoCAD 2012 costs $3995, or is a $95 upgrade to version 2011 for users in the U.S. via Autodesk resellers; upgrade prices vary worldwide. AutoCAD 2012 is not available from the Mac App Store.
AutoCAD LT is available only from the Mac App Store for $900. AutoCAD WS is also available only on the Mac App store and it is free. AutoCAD 2012 is free to students and educators through the Autodesk Education Community. More pricing details and information about purchase options are available on Autodesk's website.
The Autodesk team sees its debut into the Mac App Store as an experiment to see how its customers will respond to buying professional business software via this route. Autodesk seeks to move such business to business software purchases in that direction because of the simplicity of the interface, the swiftness of the transaction, and the aesthetic appeal of the store.
"We're trying to learn from Apple's lead here in terms of the market and all the new things that they do, which isn't normally how people buy CAD software. But I think a lot of the advances and simplicity and ease of use is pretty amazing, so we're eager to see if CAD customers will adopt that," Maguire said.