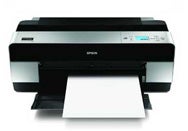 On Monday, Epson added the Stylus Pro 3880 Signature Worthy Edition to its lineup of printing products.
The large-format Stylus Pro 3880 printer was originally introduced in 2009 as an update from its predecessor—the Stylus Pro 3800. It features Vivid Magenta inks, an improved inkhead, and a new screening technology called AccuPhoto HD2, which the company says provides "smoother color transitions and better highlight and shadow detail." None of this has changed with the Signature Worthy Edition, which is actually just a bundle of the Stylus Pro 3880 printer and six full packs of select Epson Signature Worthy papers.
The types of papers included in the bundle are: Exhibition Fiber, Cold Press Bright, Cold Press Natural, Hot Press Bright, Hot Press Natural, and a Signature Worthy Sample Pack featuring additional photo and fine-art papers. The company states that its Signature Worthy papers were designed to work best with its Stylus Pro printers. Each pack of paper is letter-sized, though the Stylus Pro 3880 has a maximum cut sheet size of 17-by-22 inches.
The Stylus Pro 3880 Signature Worthy Edition is available in select retailers for $1495, which is $200 more than if you were to buy the printer on its own. A one-year warranty is included.