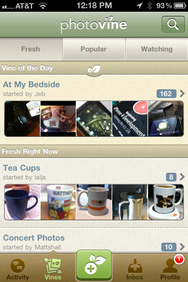 Although the new Photovine iPhone app in the App Store appears to be from a developer of the same name, it's actually a Google joint. (Google owns Photovine.) It's a free app for photo sharing that seems to fall somewhere between Instagram and Color.
In Photovine, you browse vines—shared collections of photos connected by a single caption. In the promotional video on Photovine's website, one woman starts a "Warm and Fuzzy" vine with a snapshot of her puppy; a picnicking couple's self-portrait and a hirsute sunbather's chest soon join the mix.
You can connect to friends from Facebook, Twitter, and your iPhone contacts. You can browse fresh or popular vines, and also scroll through an activity feed with all your friends' photos. When you take photos, you can optionally add captions and share the photos via Facebook, Twitter, or email.
Photovine is free and requires iOS 4.2 or later.