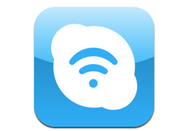 Skype Wi-Fi, the Wi-Fi hotspot service formerly known as Skype Access, is now available on your iOS device. With the new, free Skype Wi-Fi app, you can connect to over one million Wi-Fi hotspots around the world, paying only for the Internet minutes you use.
Skype says that prices will start at 6 cents per minute, with no data limits. You launch the app, login with your Skype credentials, tap Go Online, and you're good to go. Skype says your iPhone or iPad needs to be running iOS 4.1 or above to work with Skype Wi-Fi.
To promote the new app, Skype is offering up to 60 minutes of free Skype Wi-Fi between midnight August 20 and 11:59pm August 21 ( British Summer Time).
Skype says the service works with Wi-Fi providers all over the world; the price per minute can vary depending on the local provider.