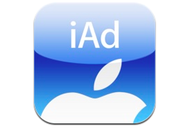 Andy Miller, Apple's vice president of mobile advertising, will depart the company for greener pastures, Apple said Wednesday. His departure was first reported by All Things D and was confirmed to Macworld by Apple.
Miller first came to Apple after it acquired his company—mobile advertising firm Quattro Wireless—in 2010. Quattro was subsequently dissolved in favor of Apple's iAd service, which Miller served as the vice president and general spokesperson for. The soon-to-be-former VP will head to Highland Capital, notable as the Boston-based venture firm that originally helped fund Quattro.
Though it's unclear exactly why Miller chose to leave, it's possible that he experienced dissatisfaction with the iAd program, which has had its ups and downs in the year or so since its launch in 2010.
Billed as an innovative (and interactive) take on mobile advertising for Apple's iOS platform, iAd launched July 1 with several prominent sponsors—including Disney, Nissan, and General Electric—committing more than $60 million in advertising dollars to the service.
In subsequent months, iAd faced initial challenges: U.S. regulators looked into whether the service would violate antitrust legislation; Apple's tight control over design and advertisers led the company to open advertising up to iOS developers, and offer software for creating iAds called iAd Producer; and some advertisers saw poor click-through and experienced general dissatisfaction with iAd in contrast to other mobile advertising platforms.
Despite its initial growing pains, however, iAd expanded into both Japan and Europe in subsequent months. And in December of 2010, an IDC study projected that iAd held 21 percent of mobile advertising revenue—not the lion's share of revenue, certainly, but nothing to sneeze at either.