Earlier this week I took a tour of The Data Rescue Center, a data recovery service provider. Competing with the likes of DriveSavers, the Center opened in July in Livermore, Calif., near the Lawrence Livermore National Lab. Its services are available nationwide.
The Center is a division of Prosoft Engineering, a longtime Mac software developer and makers of Drive Genius 3, Data Rescue 3, and Data Backup 3. In addition to recovering data from hard drives that are physically damaged, users of ProSoft's software can call upon the Center when the problem is beyond the scope of the software utility.
Step into the lobby of the Center, and you immediately encounter a view of the cleanroom. The cleanroom is where drives are taken apart and broken parts are replaced. (The Center keeps a library of old hard drives from which they pull parts.) When a hard drive mechanism is opened, it's important to prevent air contaminants from polluting the drive, since they can cause even more damage.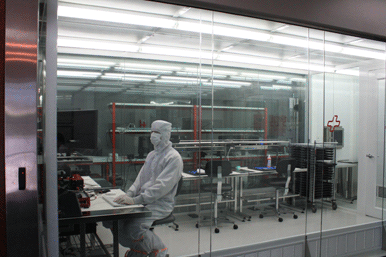 According to Prosoft, the cleanroom is Class 100, which is a rating based on the United States Federal Standard 209E—the rating is based on the cleanliness of the air in the room; the cleanest rating is 1, and ratings can go as high as 100,000. (Using ISO standards, which have replaced the Federal Standard, the Center's cleanroom is rated at ISO 5, on a scale of 1 to 9.) The cleanroom can switch to a Class 10 if needed, to lower the chances of contaminating the hard drive.
Employees working in the cleanroom must don protective suits that also prevent the buildup of static electricity. The cleanroom has anti-static chairs and tools, as well as equipment made with non-outgassing plastics. The Center recently announced a partnership with computer chassis designer DarwinMachine to build a chassis specially made for cleanrooms.
Once a drive is repaired and reassembled, technicians go to work trying to recover the drive's data. While in the Center's possession, drives are stored in a class 2 vault to prevent theft. The vault has a concrete ceiling, concrete walls, a 4000-pound door, a biometric lock system, and surveillance cameras.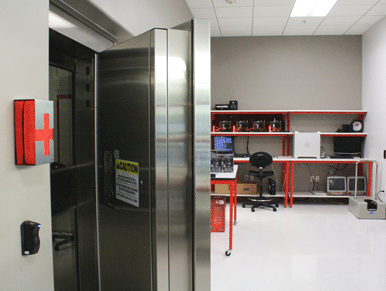 The Center can transfer recovered data to a new hard drive. Currently, the Center sells drives from OWC at no additional markup in price. Unlike some other data recovery services, the Center does not offer recovered data as a download, due to the insecure nature of online access.
Prices vary for the Center's data recovery services. Pricing for recovery of a single drive starts at $500. The Center also offers other services, such as data migration (for example, from legacy media such as tape or floppies to a hard drive, or from a old hard drive to a new one), photo scanning, and RAID data recovery.