Startup iZettle has made its payment application available for Swedish iPhone users, and now plans to distribute 2,000 card chip readers, the company said on Thursday.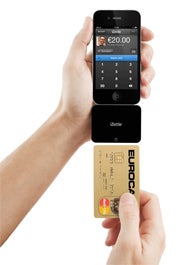 The Swedish company's application makes it possible for anyone to accept card payments using their iPhone, iPad or iPod touch. The amount, up to 500 Swedish kronor (US$80), and the card number is entered into the application. When the transaction is completed, the money is forwarded to a bank account registered by the user.
Even though this works, iZettle prefers that its card reader, which is attached to the bottom of the device, is used.
"Using the reader increases the security. Since we know the card has been inserted into the card reader we can verify its validity," said Jacob de Geer, CEO at iZettle.
When the card reader is used, payments larger than 500 Swedish kronor are allowed.
Earlier this year, U.S. company Square, which develops a similar payment solution, came under fire from competitor VeriFone for the security of its implementation, because it doesn't encrypt cardholder data.. That invites card skimming, according to VeriFone.
The criticism is somewhat unfair, because Square follows the regulation that is in place in the U.S., according to de Geer. The problem is rather that the magnetic stripe still dominates, as opposed to in Europe where chips are taking over, and chips can't be skimmed, he said.
"Comparing the security of a chip to that of a magnetic strip is like comparing a Ferrari with a Skoda," said de Geer.
The company's card reader has been approved by EMV (Europay, Mastercard, Visa), and is compatible with Payment Card Industry Data Security Standard (PCI-DSS). That means it is as secure as the card terminal at your local 7-Eleven, de Geer said.
IZettle charges users 2.75 percent of the price plus 1.50 Swedish kronor per transaction. The application is still in beta, and the company doesn't have a firm date for the commercial launch. Since it handles payments, it wants to make sure that everything works before a wider launch. But so far, so good, according to de Geer.
While putting the finishing touches on the iOS implementation, the company is also looking at expanding to other markets and platforms.
"Sweden is a good test market, but our ambition is to launch in a few more European countries before the end of the year," said de Geer.
An Android-compatible application and reader is on the way. The accessories market for Android has been a little chaotic, with different implementations of the connector to which the card reader would be attached. But the Android Open Accessory program will help change that, according to de Geer.