Evernote not only wants you to remember everything—it wants you to have the option to annotate it, too. On Thursday, Evernote announced that it had acquired Mac image annotation software Skitch and its two co-founders. The program will also now be available for free on the Mac App Store, eliminating its original $20 price tag.
The deal was announced by CEO Phil Libin at the keynote for the Evernote Trunk Conference, the company's first gathering for Evernote developers. Additionally, both Evernote and Skitch posted blogs detailing the acquisition and future plans. All parties were quick to state that the app's development would continue to grow, spearheaded by co-founders Cris Pearson and Keith Lang, both of whom are moving from Australia as part of the deal.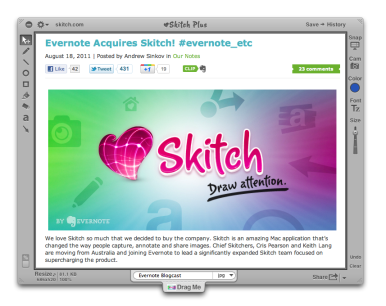 And yes, as of Thursday, Skitch will be available for free on the Mac App Store—paid plans, ads, and free trials have all gone the way of the dodo. Pearson and Lang will instead be focusing on expanding Skitch.com services, features, and getting the software on new platforms.
First up: Skitch for Android, which launched alongside Thursday's announcement. "Many of you are no doubt saying 'where's my iOS version?!'," Pearson wrote on Skitch's blog. "The answer is, it's on the production line. It's coming!" As for the Web service, users with existing Skitch.com accounts can continue to use the service and sign in normally; Evernote users can sign into Skitch with their Evernote username and password.
Skitch was first previewed at the 2007 Macworld Expo and spent the next three years in beta before its official launch in December of 2010. Evernote, in contrast, launched its first public beta in mid-2008; since then, the company has developed partnerships, expanded across multiple platforms, raised and—with Skitch as its first step—has begun expanding its application portfolio.