Kanex has unveiled the tantalizingly-named C247DL, a dual-link DVI-to-Mini-DisplayPort converter. The cable is designed for users with older Macs (or PCs with high-end graphic cards) who want to connect their computers to the 27-inch Apple LED Cinema Display.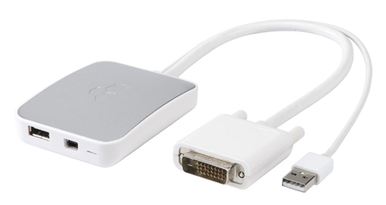 According to Kanex, the C247DL supports the Cinema Display's full native resolution of 2560-by-1440 pixels, which standard DVI adapters can't always handle. Kanex says that the C247DL actively converts the video signal from the dual-link DVI to provide the best picture possible.
The converter doesn't just do video, either. The C247DL's built-in USB connection can send your Mac's audio to the Cinema Display's 49-watt speaker system, as well as power the monitor's integrated iSight camera and built-in microphone.
Compatible Macs with a Mini DisplayPort include MacBook Pros from 2006 to early 2008, along with 2005 and 2007 editions of the Mac mini.
The C247DL costs $149—a fraction of the Cinema Display's $1000 price tag. Note that the device is not compatible with Apple's newer Thunderbolt Display.