The geniuses of disassembly, documentation, and delightful wit behind iFixit have targeted a new tool that needs improvement: online manual and knowledge base content management. Their new project, Dozuki, lets companies use the CMS behind iFixit to build own colorful guides with step-by-step instructions.
Boasting the slogan "Teach Action," Dozuki offers businesses a hosted service that helps them create online manuals and knowledge base articles.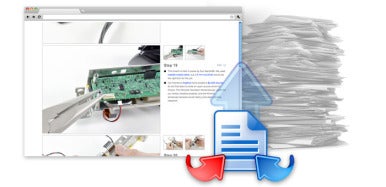 Behind the service are two frameworks, originally custom-built to serve iFixit: Guidebook and Answers. Guidebook, like its name suggests, focuses on online repair guides. The CMS allows easy editing of both documents and individual repair steps, simple image and video uploading, Web customization, iOS support, and a full-featured XML-based API for outside integration. Answers, meanwhile, is a collaborative knowledge base center, where users and staff members alike can ask, answer, rate, and file questions.
Dozuki has three monthly plans currently outlined for businesses: the $99 Garage model, $249 Workshop, and $499 Factory. For $99, companies can create 50 guides, authored by one person (additional authors can be added for $49/month); have an iOS app, access to the API, and a public-facing site; and generate PDFs from guides.
The $249/month plan adds access to unlimited topics and categorization, and bumps the amount of creatable guides up to 150, with three author slots. In addition, you'll be able to use a custom domain and choose whether to have a public or private-facing website. For $499 a month, you'll get an unlimited amount of guides, topics, and categories, five authors, and the option to display your own advertising. There's also a "Contact Us"-only plan called Community, which offers full community features, unlimited authors and guides, HTML and CSS customization, SSL support, and premium customer service.
Those interested can read up more on the Dozuki website and sign up for the beta; a 45-day free trial (with three creatable guides) is also available. Ars Technica offers a nice interview with CEO Kyle Wiens regarding the new service, which is currently in invitation-only beta testing.