Apple has filed potentially inaccurate evidence again in a case against Samsung, this time in the Netherlands, where the company is arguing Samsung's Galaxy S smartphones are too similar to its iPhone 3G.
Apple also has an ongoing case in Germany, part of a global intellectual property battle with Samsung in the mobile phone and tablet market. In addition to the charges that Samsung's Galaxy devices are "slavish" imitations of Apple's designs, the two companies are also clashing over several alleged patent infringements.
Apple has provided flawed visual evidence of similarities between the iPhone 3G and Samsung's Galaxy S smartphones to the District Court in The Hague, an investigation by Dutch IDG publication Webwereld.nl has found. A picture of a Galaxy S smartphone has been resized to match an iPhone 3G.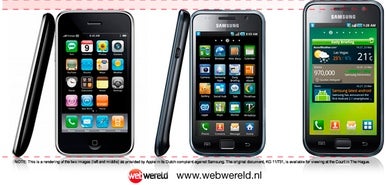 During the court hearing last week, Samsung's lawyer, Bas Berghuis of Simmons and Simmons, claimed that Apple has been "manipulating visual evidence, making Samsung's devices appear more similar to Apple's." Berghuis, however, did not show evidence of his allegations.
Webwereld's investigation found that one of the pictures provided by Apple as evidence in the Dutch case is either wrong or manipulated. On page 77 of the complaint, seen by Webwereld, Apple's lawyers include a picture of an iPhone 3G next to a Samsung Galaxy S as "an example of the similarity relevant to copyrights."
But the picture Apple submitted of the Galaxy S is inaccurate and does not match the real Galaxy S. The Galaxy S, introduced in The Netherlands in July 2010, is both taller and wider than the iPhone 3G.
According to Samsung, the dimensions of the Galaxy S are 122.4 x 64.2 mm. The iPhone 3G measures 115.5 x 62.1 mm. In the text, Apple confirms that the Galaxy S has "some non-identical elements, such as the slightly larger dimensions."
But the picture of purported Galaxy S has been resized about 6 percent, making the Galaxy S appear smaller and more similar to Apple's phone. The height of the purported Galaxy S that Apple displays matches the iPhone exactly. The aspect ratio has not been measurably altered.
Apple also provided an unknown number of other pictures of Samsung's smartphones and tablets side-by-side with its own in separate productions, which were not available for inspection. There's only one picture of an iPhone side-by-side with a purported Galaxy S in the complaint itself.
Earlier this week, Webwereld uncovered a similar case in Dusseldorf, Germany, where Apple has also filed faulty evidence in court. Apple's German complaint contains a picture of an alleged Galaxy Tab 10.1, resized and its aspect ratio distorted so that it resembles the iPad 2 very closely.
Mark Krul, a lawyer at the Dutch firm WiseMen and a specialist in IT and intellectual property law, is astonished by the findings.
"It surprises me that for the second time incorrect presentations of a Samsung product emerge in photographic evidence filed in litigation," he said. "This is not appropriate and undermines Apple's credibility both inside and outside the court room."
Krul said that litigating parties are required by Dutch law to provide "complete and truthful" evidence to the judge, adding that this is even more imperative when infringement on design and copyrights is alleged.
Krul noted a crucial difference with the German case, in which the judge granted a preliminary "ex parte" injunction, without a hearing or an opposition brief from the defendant. In The Hague, Samsung's lawyers lodged an opposition and flagged the flawed evidence.
Krul doesn't presume that the examples of the faulty evidence are malice on the part of Apple's lawyers. "But Apple has certainly some explaining to do, if only to clear itself from the appearance of improper behavior," he said.
Webwereld has briefed Apple and its Dutch counsel, Rutger Kleemans of Freshfields Bruckhaus Deringer, on the results of the investigation and submitted questions to clarify the issue. He declined to respond. Samsung also declined to comment, citing ongoing litigation.
The complaint is only available for viewing at the court in The Hague. Due to these restrictions, Webwereld has made a rendering of Apple's flawed evidence to present the findings visually.
In the Dutch case, Apple seeks a ban on all Galaxy smartphones and tablets in the European Union (E.U), including a complete recall of stock by European distributors and resellers. The court in the Hague will rule on Sept. 15. At the hearing last week, Judge Edger Brinkman stated that if he grants any injunctions against Samsung's products, they would take effect no sooner than Oct. 13.
In Germany on Tuesday, the Dusseldorf District Court changed its preliminary injunction granted last week that prohibited Samsung from selling the Galaxy Tab 10.1 in all E.U. countries except for The Netherlands.
The court, citing uncertainties about jurisdiction, changed its ban to allow Samsung to sell the product in all E.U. countries except for Germany. The first hearing in the case will start next Thursday in Dusseldorf.
Note: When you purchase something after clicking links in our articles, we may earn a small commission. Read our affiliate link policy for more details.