At a Glance
Expert's Rating
Pros
Elegant, slimline design
Very good image quality
Crisp, strong colors
Our Verdict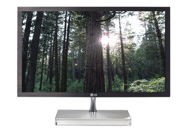 Even Apple might want to take a closer look at the elegant, slimline design of LG's E2290V display. This 21.5-inch screen (LG says it's 22 inches but it's not) is just 7.2 mm thick, and the entire unit is so light we were able to pick it up in one hand while connecting the cables for our laptop and iPad.
The casing of the display and stand is mostly constructed out of plastic, but it has a gleaming metallic finish that looks terrific. It's also quite solidly built despite the thinness of the screen and its lightweight materials.
All the cables fit neatly into the base of the stand, with HDMI, DVI and VGA connectors that will allow you to hook up a computer and an iPad or a DVD player at the same time. That makes it easy to switch from one device to another when you want to play games or watch videos, or just do a bit of routine email or web browsing. The stand also houses a set of glowing touch-sensitive controls for the onscreen menu system. If you have a Mac with a Mini DisplayPort, you'll need an adapter.
The LED backlighting produces a bright, sharp image and although LG's claim of 10,000,000: 1 contrast ratio sounds a bit over the top, the image quality was very good. It produced crisp, strong colors when we were watching "Wonders of the Universe" in HD using the BBC iPlayer.
Even the onscreen menu system has good attention to detail. There are image presets for tasks such as watching movies or browsing the web, and selecting one of these shows a split-screen before/after effect so that you can see how each preset affects the image quality.
The only disadvantage of the E2290V's slimline design is that there are no built-in speakers. There's a headphone jack in the base of the monitor, but you'll have to provide a proper set of external speakers for watching video or playing games.
Macworld's buying advice
The E2290V is still a good choice if you want a slim, lightweight monitor that provides good image quality for both work and play.