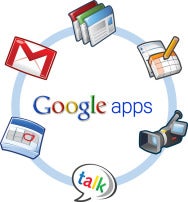 Google has strengthened the IT administration capabilities of the free, standard version of its Apps hosted communication and collaboration suite, the company said Friday.
That basic version, called simply Google Apps, is gaining some advanced management features that already exist on the Apps for Business version of the suite.
The new features include the capacity for the main administrator to delegate some management capabilities to others. Administrators will also be able to manage users from two or more different domains on a single console, as well as assign different levels of access to Apps components to different sets of users.
The basic Apps version used to have a limit of 50 end users, but Google lowered it to 10 end users for new accounts created on or after May 10.
In a separate announcement, Google also said on Friday that it is now possible to grant page-level access to sites created with its Sites website creation application, which is part of all Apps versions.
That means administrators can make some pages and not others available to some users, instead of having to make the entire site available to them, Google said.