Whenever I travel, there's a moment as I pull away from the house and start the drive to Newark Liberty International Airport wherein I first convince myself that I've forgotten something, and then convince myself that whatever it is mustn't be that important.
Then I spend the rest of my airport drive trying not to panic.
Quinn Genzel's Packing Pro, a $3 universal iOS app, tries to help folks like me shed such self-induced agita. Ultimately, however, it fails—and perhaps introduces some added agita of its own.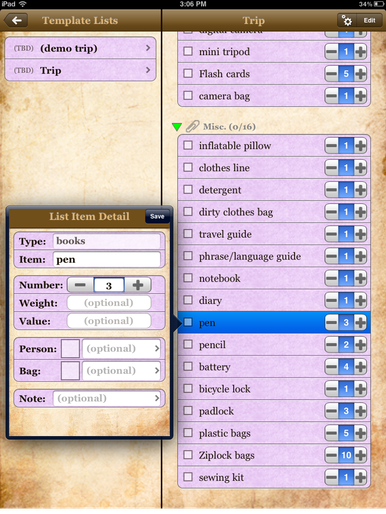 Like another app I reviewed recently—the reminder and timer app Alarmed—Packing Pro seems like a clear labor of love on the part of its developer, faring better with its feature set than with its design. Unlike Alarmed, though, Packing Pro's features aren't powerful enough to overcome the app's general clunkiness.
You know a lot about Packing Pro from the moment you launch it. Its home screen looks atypical for an iOS app, sporting recognizable iOS elements that seem as if they've been run through a Twilight Zone filter: Buttons are purple, with large, italicized gray text, over a sepia-toned, heavily-textured background. Explore the app, and you'll find that you can tweak many elements of its design—there are numerous themes, each with individually adjustable fonts and colors, and even layout options, too. But no matter what mix of design options you choose, you'll never shake the clichéd notion of applying makeup to swine, thanks (or no thanks) to the app's cluttered screens and bizarre navigation.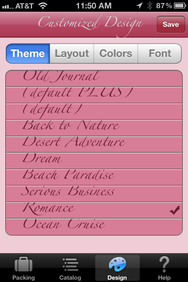 You create packing lists in the app either from scratch or from various built-in templates. But you're never really working from scratch, because Packing Pro packs in many, many option items to use in creating your lists—from pre-trip tasks like "take out garbage" to "money belt," "binoculars," and "sterile dressings." When you're adding items to your packing lists, you may on occasion feel overwhelmed by choices: When I wanted to add undergarments to my list, I first navigated into Clothes, then Underwear, and then needed to choose among underpants, briefs, boxers, panties, thermals, and long johns. Maybe you need that level of granularity. I do not.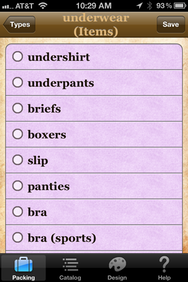 In addition to offering far more options than is genuinely helpful, Packing Pro tosses up far too many alerts, too. Each time I added items to my list, I got a pop-up notification indicating that those items were added successfully. That got old very quickly.
More than once, the app posed this question in a different pop-up: "When adding new items to this packing list, which is your prefered method at this time?" [sic] My options were "one at a time" and "multi-entry." I'm not entirely sure what behavior my selection affects.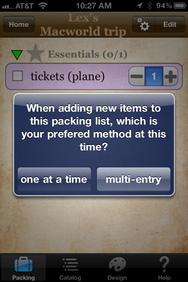 I'm not convinced that even the worst trip-planner could benefit from Packing Pro. Its coupling of too many options with too messy an interface makes it at best a chore to use, and at worst unusable completely.
There's a slimmed-down version of the app called Packing (+TO DO!). It offers fewer options than the Packing Pro app—which is, in fact, a benefit. But it's still hampered by an unnecessarily complicated and unattractive design.
If you do feel like you need an app to help you plan and pack for your next trip, I'd recommend a simple task management checklist app like Paperless, where the focus is on quick, intuitive task entry. Packing Pro strikes me as not even worth a bag of complimentary honey roasted peanuts.
[Lex Friedman is a Macworld staff writer.]