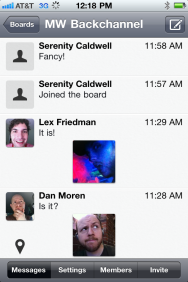 Sharing, as many of us we were taught back in kindergarten, is caring. But especially in this new age of social networking that shouldn't mean you should have to share with—or care about—everybody all the time. Sepia Labs's new iPhone app, Glassboard, is aimed at giving users the ability to share information with just certain people.
Glassboard is built, appropriately enough, around the concept of "boards." A user creates a board—assuming the position of that board's "chair"—and can invite whomever they want to participate in it. Once invited, a user can post messages, pictures, videos, and location data to the board or comment on and "like" other users' posts. Like most social networks, users can pick a profile picture, but pictures can also be assigned to boards to make them easy to tell apart. You can keep up with posts to your boards either by browsing each board individually or by checking your News Feed, which shows you the latest updates on all of your boards.
What sets Glassboard apart from other social networks is its emphasis on privacy. Posts are only visible to those who have been invited to the board, and there's no way to find or view a board if you're not already a member. The content is also not indexed on search engines, nor can it be re-shared with others. Board chairs can also remove people from their boards, or delete a board entirely.
Notifications are also a big part of Glassboard. If you allow the app to send you push notifications, you'll be alerted every time someone joins your board or posts to it. However, each board lets you choose whether you want to receive push notifications, email notifications, both, or neither, and you can also opt to enable quiet hours, during which all notifications are muted. That way you'll always be kept up to date when it matters, but you should still be able to sleep soundly without being woken up by incessant pinging.
While Glassboard is clearly aimed at the private-sharing niche, it still has plenty of challenges in the social-networking arena—not least of which is adoption from users, who are increasingly presented with a deluge of social networks. Google+ offers similar functionality in both its use of Circles for sharing and the Huddle feature of its mobile app, though Glassboard's privacy controls seem far stricter. It also faces competition from apps such as GroupMe, which was purchased by Skype this week. And unlike many social networks, Glassboard currently offers no Web interface at all, which may present a challenge to adoption.
One thing Glassboard does have going for it, at least in the iOS arena, is its pedigree. The app is the first produced by Sepia Labs, which is the new endeavour co-founded by Brent Simmons. Simmons was the original developer behind popular Mac applications NetNewsWire and MarsEdit; earlier this summer he stepped away from working on NetNewsWire to pursue new ventures, of which Glassboard is the first.
Perhaps one of the cleverest moves Sepia Labs has made with Glassboard's launch is that it's freely available on the iPhone, Android, and Windows 7 at launch. It requires an iPhone running iOS 4.2 or later.