Ah, the iPod classic; the neglected member of the iPod family. It bears no clip, it doesn't run apps, and it's the only iPod that still uses a fragile, spinning hard drive. But it's still chugging along like that old Volvo that won't give up after 150,000 miles. A direct descendant of the very first iPod, the iPod classic still has a Click Wheel controller, and stores a heck of a lot of music.
And that's where the classic stands out: its capacity. Apple says it can hold up to 40,000 songs, though that number assumes your music is in 128-kbps format, and your songs average four minutes each. Even with the current iTunes Store format—iTunes Plus, or 256 kbps—the classic can still hold 20,000 songs, or 80,000 minutes of music.
That's 1333 hours, 55.5 days, or nearly eight weeks—or, if you prefer, 500 Grateful Dead shows.
(It could also hold 200 hours of video, if that's all you put on it, or 25,000 photos, says Apple.)
Compare the iPod classic's 160GB capacity to that of the iPod touch or iPhone: Those devices max out at 64GB and 32GB, respectively, and since you're going to also put a lot of apps, videos, and other files on them, you can't use all that space for music. With the exception of a few lame games, the iPod classic is all media all the time.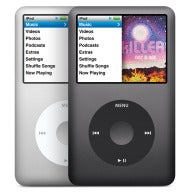 Here at Macworld, a number of people have written off the iPod classic in the past few years. Back in 2008, former editor Peter Cohen predicted the iPod classic's final act; last year, Senior Editor Chris Breen wrote that "the iPod classic has reached the end of the road"; but Senior Editor Dan Frakes retorted that we shouldn't write off the iPod classic. Breen doubled down a month later after Apple's 2009 fall music event, saying, "Apple continues to sell the iPod classic for $249, but it hasn't been updated and merited not a single mention from Steve Jobs. The writing is on the wall. It's going the way of the dodo.". But the iPod classic is still here (and earlier this year, Steve Jobs reportedly said in an email that Apple had no plans to kill it off).
Some people speculated a while back that the classic would see its hard drive boosted to 250GB, but 2009's product update didn't change the current 160GB capacity, or anything else about this model. Instead, Apple came out with a misguided iPod nano and repaired its previous errors regarding the entry-level iPod shuffle. But nary a word was spoken about the iPod classic at last year's Apple music event.
I've been neglecting my iPod classic for a while, instead using my iPod touch for much of my listening. It has apps, and—let's face it—the display is a lot better, providing larger artwork and more information about my music. But I was constantly juggling my music around to have what I wanted to listen to on it. Recently, I had to send my iMac, which holds my 80,000-track music library, for repairs, and while working on my MacBook Air, I've been using my iPod classic, connected to an Apple dock, to play music through my stereo. While it's not perfect, it sure can hold a lot of music (still, alas, only about one-third of my library).
For those who simply want to listen to music, the iPod classic is ideal; in fact, it's the only device that offers decent capacity at an affordable price. After all, for around the same price ($20 less) you only get 8GB on an iPod touch; that's one-twentieth of the music, though you do get a touch screen and the ability to play games, watch videos, check your email, and tweet, among other things.
So, as we approach Apple's anticipated annual music event—no date has been yet announced, but it's traditionally held in early September—is it time for the iPod classic to be retired, or will it be spruced up? I'd like to see some changes, and I think Apple could revive this forgotten iPod. Instead of the Click Wheel, the company could add a touchscreen, offering access to features in a manner similar to that on the iPod nano. This would give the device two screens, or perhaps the two would be merged into a single, two-part display. Capacity could be upped; after all, most of the buyers of this model are people with large music libraries like me, and 250GB hard drives are available in the size used by the classic. (Interestingly, many iPod classic owners also seem to own an iPhone or iPod touch, so they're still able to use apps and play games.) I've even encountered many people who own more than one iPod classic. It seems to be especially popular as a device to provide variety when listening to music in cars, or on long trips.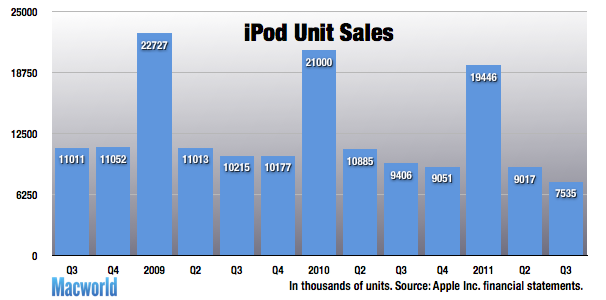 And why not bring back the idea of specially decorated iPods? Remember the iPod U2 Special Edition from back in 2004? It came with The Complete U2 pre-loaded and cost, at the time, $349. Why not some other special iPod classics? A Beatles iPod, in yellow? Or a Grateful Dead iPod, with a stealie decorating the Click Wheel?
Apple doesn't generally offer up sales info for specific iPod models—other than touting how the iPod touch accounts for about half of all iPods sold—so there's no way to know how many classics it sells. However, Amazon.com currently has the classic at the number three spot behind the 8GB and 32GB iPod touches, and just ahead of the first non-Apple device in the list. Both iPod classics (black and silver) are ahead of the iPod nano and shuffle in any of their colors. So while many people think the classic is a niche device, this might not be the case. Even if it were a niche, it would be one worth holding onto, because the buyers of this model are the real music fans, with lots of tunes, and want a device that holds as much as possible.
Perhaps updating the iPod classic every two years makes more sense than an annual makeover. The last update was in 2009, so maybe we'll see a new model shortly. No matter what, I don't think the iPod classic is going away any time soon.
How do you feel about the iPod classic? Should it stick around, or should Apple finally the final nail in its coffin?
[Senior contributor Kirk McElhearn writes about more than just Macs on his blog Kirkville. Twitter: @mcelhearn Kirk is the author of Take Control of iTunes 10: The FAQ.]