This week's roundup of iOS accessories lets you take to the air, keep your hands warm, and make sure your iPhone, iPad, and iPod have all the power they need. And if you've got a long car trip planned, we've got a few gadgets to make the trip more enjoyable.
Bracketron: If both your tablet and your phone run low on power during your next car trip, the $25 Dual USB Charger has you covered. The device plugs into any car's 12-volt accessory outlet and, as its name suggests, provides two USB-power jacks—one a high-power 2.1A that can handle an iPad, the other a low-current 1.0A version—for powering your iOS devices, iPods, GPS units, and satellite radios. The charger includes an LED light that signals when when power is being supplied. Also newly available from Bracketron is the $35 Cradle-iT golf cart mount for mobile phones.
Cygnett: Parents know that one of the iPad's most-convenient uses is to keep kids occupied near the end of long, boring car rides. Cygnett's $50 CarGo iPad car mount bracket lets you mount the tablet to the back of a headrest and use it as a media hub during long road trips. The mount rotates 360 degrees, allowing the iPad to be viewed in portrait or landscape orientation; it also provides easy access to the iPad's dock-connector port and headphone jack.

Griffin Technology: iPhone-controlled helicopters are apparently the latest rage—we told you recently about the offerings from iHelicopters.com. Now Griffin Technologies arrives on the scene with its $50 Helo TC. Just download Griffin's Helo TC app and you can control the miniature helicopter either using multitouch or tilt-to-steer controls. The app lets you design up to three flight plans for later use.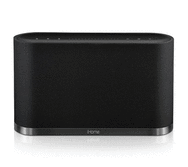 iHome: This accessory purveyor was the first to announce, way back in January at CES, an AirPlay speaker system. iHome has now announced the iW1 AirPlay wireless system's official launch. The iW1 features a rechargable battery and a handle, which together make it easy to use the system nearly anywhere. The speakers use Apple's AirPlay wireless-media-streaming technology to let you play music from your iPad, iPhone, or iPod touch, or from iTunes on any computer, over your local Wi-Fi network. You can also connect your iOS device using the iW1's USB port, which also charges your portable. You can even control your portable's music playback using the iW1's own playback-control buttons, either on the iW1 itself or on its included wireless remote control. The $300 system goes on sale August 31.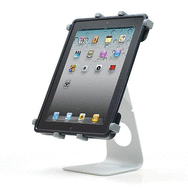 InnoPocket: If you want to display your iPad on a stand reminiscent of your iMac, InnoPocket's HexaPose UStand is the solution. The $50 aluminum stand is compatible with a variety of tablets, and can be adjusted to three different angles for optimum viewing in either portrait or landscape orientation. The stand features extendable supporting arms inlaid with rubber pads to keep your iPad secure without scratching it.
Logitech: Music and video on the iPad just got a little louder with Logitech's new $50 Tablet Speaker for iPad. A rubberized clip attaches the speaker to the top edge of your tablet, and you get up to eight hours of listening. The speaker comes with its own carrying case, or can fit into a laptop bag. Other new Logitech products include the $20 Joystick for iPad and the $130 Fold-Up Keyboard for iPad.
OnTip: Winter's coming—really!—and that can make outdoor use of your iPhone somewhat difficult. OnTip has introduced a line of iOS-compatible gloves that work with your device's Multi-Touch screen while keeping your hands warm. The gloves range in price from the $30 OnTip Fleece to the $70 3-in-1 gloves—the latter include Thermolite insulation and reflective piping so othher winter athletes can see you and avoid danger when you've stopped trailside (at night, presumably to take a picture with your iPhone.
Scosche: This accessory vendor has has released its own portable speaker system for iOS devices, the $25 BoomCan, It's small enough (2.5 inches tall and 2 inches in diameter) to slip into your bag, and it plugs directly into the headphone jack of your iPhone, iPad, or iPod touch. The device includes a rechargable battery that provides up to seven hours of listening time, and it's made of aluminum for light weight and durability. The BoomCan comes in red, blue, or silver. Scosche also includes a charging cable and a travel pouch.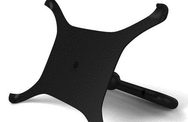 TouCoul: California-based designer Tete Selado has unveiled an updated version of the CoulVue car mount, a headrest mount that lets backseat passengers view videos and play games on the iPad 2. The $80 device includes a flexible arm mount and a swivel base that lets viewers choose between portrait and landscape orientations. The CoulVue also sports a soft interior lining to prevent the mount from scuffing the iPad, and the company says the mount can be used in conjunction with Apple's SmartCover to ensure the iPad's screen is protected when the tablet is not in use.
TwelveSouth: This design company has unveiled two new colors of its $40 Compass Mobile Stand (which we liked a lot when we reviewed it). In addition to the original iPad Silver, you can now get the Compass in Tactical Black and Candy Apple Red. The heavy-gauge metal tripod stand can display your iPad like an easel, or it can adjust down to create a lower-angle typing stand. Folded up, the stand is just 7 inches long and 1 inch wide, making it easy to carry around in your bag when it's not in use—TwelveSouth describes the stand as being the size of a candy bar.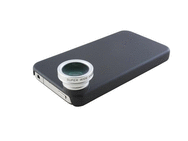 USBFever: This accessory provider has several new products on the market. The $25 0.5X Super Wide Angle Lens Back Cover for iPhone 4 lets iOS photographers capture wide angles on their phone's camera—just snap on the cover/case, screw in the lens, and you're ready to take photos with a 90-degree field of vision. Also available is the $13 Sync Blocker USB to Dock connector cable, a 39-inch cable—pitched to business travelers—that lets you charge your iOS device from a computer while preventing syncing.