Twitter on Monday launched User Galleries, a new feature that aggregates the images a person has uploaded into a single place.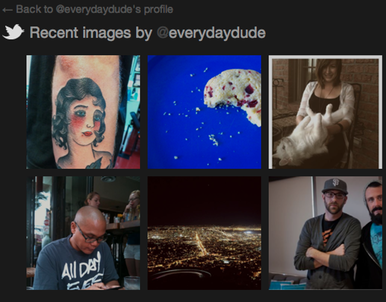 User Galleries include pictures uploaded directly to Twitter, along with photos submitted to various Twitter-compatible services like yFrog, TwitPic, Instagram, and others. The new feature is still rolling out, but once it's live for your account you'll see a Recent Images module on each user's profile page. From there, you can click into the full gallery for that user.
Twitter says that the galleries will display up to 100 of a tweeter's most recently shared images, in chronological order; videos apparently don't make the cut. Only picture-laden tweets from after January 1, 2010 will appear in galleries. So that video you tweeted from your epic New Year's Eve party on the last day of 2009 is simply out of luck.
The only way to remove an image from your gallery is to delete the tweet that contains it.
User Galleries currently are accessible only from the official Twitter website, and not from its official apps or other third-party clients. When reached for comment, Twitter spokeswoman Carolyn Penner told Macworld, "For now, they are just available on Twitter.com. We don't typically comment on products until they're available for users."