iFixit's teardowns are always a fun read—not just for the sometimes-gory shots of computer innards, but also for the little tidbits discovered along the way. Case in point: The company's Mac Mini teardown revealed space and a cable port for an additional hard drive. Now, if you have a brand new Mac Mini and are wondering "Why, I'd love to add an additional hard drive to my Mac Mini without paying $750 for a solid-state drive addition or $999 for a Mini with Lion Server," never fear: iFixit has the $70 kit for you.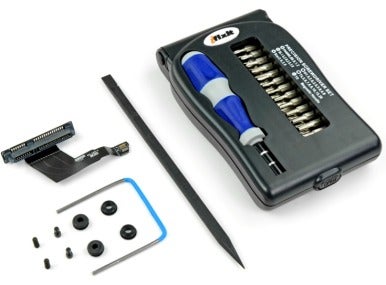 While the company's Mac Mini Dual Hard Drive Kit doesn't come with an additional hard drive, it provides you with everything else you'll need to stick that Mac Mini on your operating table and get to work, including a proprietary SATA hard drive cable, four shock-absorbing mounting grommets, four mounting screws, a Mac Mini Logic Board Removal Tool, a 26-Piece Bit Driver Kit, and the ever-handy spudger (a long black plastic stick).
If you're at a loss for what kind of hard drive to add, iFixit recommends several on the kit's product page. You can install either a solid-state or traditional spinning hard drive, depending on your tastes.
Though iFixit lists this repair as "difficult," the brave and the bold willing to forge ahead will be able to use the company's 38-step how-to to guide them through any twists, turns, and mechanical mishaps.
You can purchase the Mac Mini Dual Hard Drive Kit from iFixit's website for $70; you'll need a 2011-era 2.33GHz, 2.5GHz, or 2.7GHz Mac Mini (Model A1347).