At a Glance
Expert's Rating
Pros
Upgrade is free
New features like ShadowBox and PolyPainting
GoZ quickly exports your models
Decimation Master now incorporated into ZBrush 4
Cons
Difficult for new users to learn
Unconventional interface
Our Verdict
ZBrush 4 is a welcome and much-needed upgrade to version 3.5, offering an abundance of refined tools and improved functionality. The addition of some major new features like GoZ, ShadowBox, Spotlight, PolyPainting Layers, Timeline, and ZSketch, make this organic sculpting 3D modeler a must-have for designers in genres from gaming and animation to manufacturing and toy design.
If you're new to ZBrush, the interface will seem very foreign and thus will take some getting used to, especially if you're used to other 3D program tools and interface naming conventions. The developer says this is intentional because of the way you work with the modeling and sculpting tools in the software. While it may take awhile to familiarize yourself with the terminology, layout, and workflow, ZBrush 4's new modeling features and excellent online training, tutorials, and support will help you get up to speed and creating amazing organic 3D models quickly.
ShadowBox—the new quick start
The new ShadowBox feature drastically cuts basic modeling shape time, while allowing you to make complex hard-surface models. You create a mesh simply by drawing masks on a three-sided ShadowBox. When used in conjunction with the masking pens and the new Clip brushes, you can create hard-surface models such as mechanical devices and hardware. You can even rough out a quick model in ShadowBox and finish it with basic brushes in ZBrush.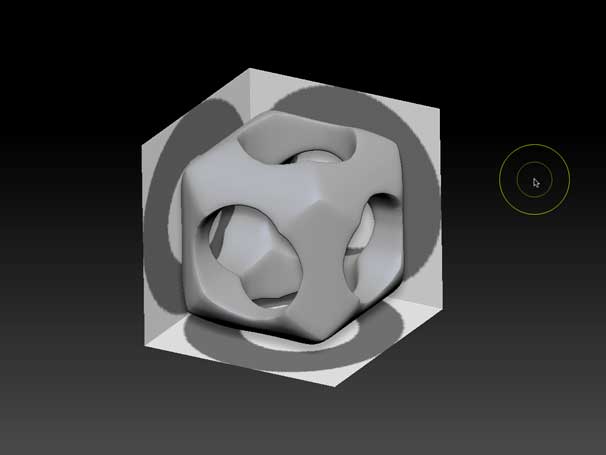 When using this feature with the MatchMaker brush (which conforms geometry from one object to another), you can create complex mechanical models with ease. You can even use the new Spotlight feature to incorporate drawings or designs for reference, in order to create your models with the ShadowBox.
The Spotlight feature allows you to collect and edit photos and images and project them so you can paint by projection. There are complete editing capabilities such as cloning and making tiled image textures. This is not only a great way to add textures but also to use Spotlight as a guide for building your model and keeping the details proportional.
New 3D brushes
The newest additions to the program's slate of 3D brushes offer more refined control over your sculpting and precision modeling. The MatchMaker Brush allows you to conform one element to the shape of another, such as the contours of a suit of armor to the chest of a warrior or an emblem on a uniform.
The Move Elastic Bush is unique in that it distorts areas of your model while maintaining the size of the polygons and reducing the stretching effect that the regular Move Brush creates. This is critical for areas you need to modify after you've created a great deal of detail and texture on your model.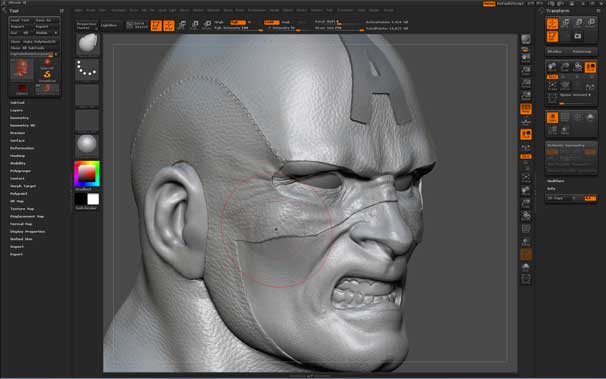 Clip Brushes allow you to cut perpendicular slices to your surfaces, making clean cross-sections on your Subtool components.
The Move Topological Brush lets you control the movement of areas on your model according to depth, without distorting areas beneath or around the selected region. This is perfect for organic elements such as wings, eyelids, or lips.
Timeline animated presentations
More than just a simple turntable animator, the new Timeline allows you to set keyframes for almost every object you can select or change in ZBrush. Most features create a smooth transition between camera moves, layers (brush strokes, facial expressions), poses, positions, material colors, and more. Advanced keyframe features like copy/paste, ease-in/out, and fades actually let you generate more complex animations inside of ZBrush 4.
GoZ—go places
One of the biggest complaints I've heard from colleagues who build ZBrush models for use in other 3D applications such as Autodesk Maya ( ), Autodesk 3DSMax, and Maxon Cinema 4D, is that the workflow for exporting the data was slow and painful. With the addition of the new GoZ plug-in in ZBrush 4, the process is relatively painless and instantaneous. Not only does it export the polygon data but also the texture maps, and the displacement and normal maps, while leaving color data with the project. And you can go back and forth between the 3D app and ZBrush to make additional modifications to your model.
Decimation Master now included
Decimation Master, which in previous versions was a plug-in, is now incorporated into ZBrush 4. This feature allows you to greatly reduce the polygon count of your model while maintaining its high-resolution detail. Since it's adjustable on a sliding scale, you can select the amount of optimization you want to give your model.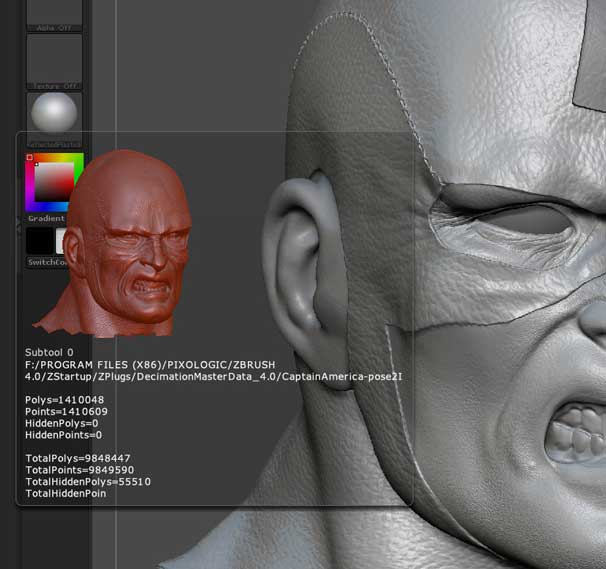 Best Preview Render mode lives up to its name
The ability to pose and render your model is now even more rewarding with the Best Preview Render (BPR) that renders with lighting, shadows, ambient occlusion, transparency, surface scattering, and fibers. It also allows masks and depth as a separate map. The example below, created by my colleague Michael Donnellan, was done entirely in ZBrush. It required only a little work in Photoshop to complete the composite with the background after rendering a still from ZBrush.
Macworld's buying advice
ZBrush 4 is the closest thing available to sculpting with virtual clay. There are numerous additions to this version of the software that enhance user experience and productivity. The addition of GoZ to streamline the export process of your models to other major 3D applications makes this a major release, but as a free upgrade for previous owners of ZBrush, it's a no-brainer. While newcomers to ZBrush 4 may feel overwhelmed by the interface and the non-intuitive structure and layout of the tools and palettes, it doesn't take long to get up to speed with the abundance of free tutorials, getting started guides, and online how-to videos.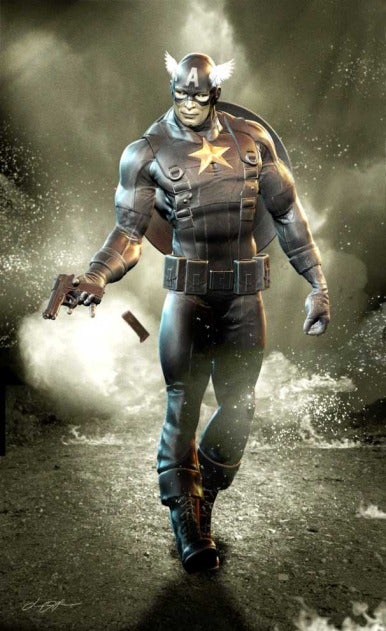 [Jeff Foster has written and contributed to several books and magazines, and has been producing award-winning motion graphics, photography, and creative design for major corporations, television, and film for more than 20 years.]