At a Glance
Expert's Rating
Our Verdict
Last week I reviewed a Gem, Scroll Reverser, that helps you improve one of the more-controversial features of Lion (Mac OS X 10.7): scrolling. Today I'm covering a utility that aims to fix—or at least render more usable—one of Lion's worst-implemented features.
I'm referring, of course, to Launchpad, perhaps Lion's most misguided adoption of an iOS feature. Open the Launchpad app, or use one of OS X's Hot Corners or gestures to enter Launchpad, and you'll see an iOS-Home-screen-like interface that arranges the icons for all your installed apps in a full-screen grid—one that spans as many screens as is necessary to hold everything. Using the left- and right-arrow keys or two-finger left and right swipes, you can switch between screens to (hopefully) find a particular app. To launch an app, you click it.
If you've installed only a few third-party Mac apps, this iOS-like feature can work well enough. But once you add more than a couple dozen, Launchpad ends up being an overwhelming mess of icons with no easily discernable method to its madness. You can drag apps to reorganize them, including making a folder by dragging one icon onto another, but on the whole, organizing apps in Launchpad is a hassle. (There's not even a handy Sort By feature, which would at least let you organize apps by, say, name.) Worst of all, if you remove an app from Launchpad (by holding down the Option key and clicking the little X button that appears on the program's icon, or by dragging the app to the Trash from within Launchpad), the app is actually deleted from your Mac. In other words, there's no official way to keep an installed app from appearing in Launchpad—every app is listed.
Which is where Launchpad-Control comes in. This simple utility, which operates as a System Preferences pane, displays a list of all Launchpad-eligible applications (essentially, anything located in /Applications or ~/Applications), as well as any folders that either exist inside the Applications folders or that you've created within Launchpad. Next to each program or folder is a checkbox—if the box is checked, the application appears in Launchpad. Uncheck the boxes next to the programs you want to exclude from Launchpad, click Apply, and the Dock (which handles part of Launchpad's functionality) relaunches as your changes are applied.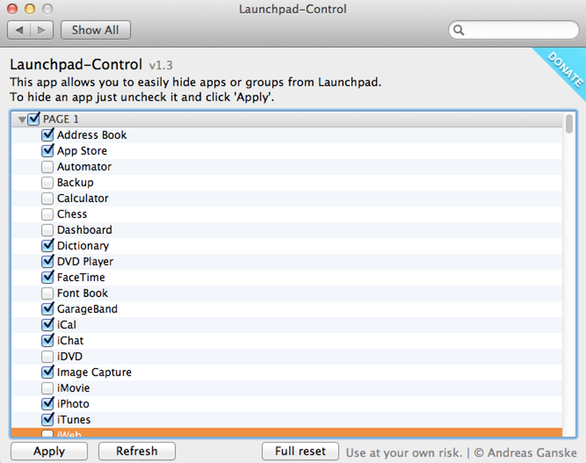 Unlike deleting apps from within Launchpad, disabling them using Launchpad doesn't affect the applications themselves—it just prevents them from appearing in Launchpad. You can even disable OS X's stock apps. To make it (slightly) easier to find apps within Launchpad-Control's list, the list is broken up by Launchpad screen (Page 1, Page 2, and so on). And while there's no button to uncheck all apps in the list, which would be useful if you want to disable more apps than you want to keep visible, you can disable an entire page of apps at a time and then go back and enable just those you want to appear in Launchpad.
(Note that if you make any changes within Launchpad while Launchpad-Control is open, you should quit System Preferences and then re-open Launchpad-Control to ensure that it sees, and that you don't overwrite, those changes.)
There are a few features that would make Launchpad-Control a bit less tedious to use. For example, I wish you could type the first few characters of an application's name to quickly select it in the list. I'd also like to be able to drag pages up or down the list to rearrange them in Launchpad, and to move apps between or within screens using Launchpad-Control; instead, all your Launchpad organization must happen within Launchpad itself. Still, being able to exclude all those apps you never want to see in Launchpad is a big first step towards making Launchpad usable, and Launchpad-Control deserves kudos for that.
Want to stay up to date with the latest Gems? Sign up for the Mac Gems newsletter for a weekly email summary of Gems reviews sent directly to your Inbox. You can also follow Mac Gems on Twitter.