Novelty apps face two challenges when it comes to gaining a foothold in the App Store. First, they have to capture the imagination in some way. But more important, they also have to be good, well-designed apps that continue to be of use even after the initial novelty wears off. Otherwise, you're left with the mobile equivalent of a joy buzzer on your iPhone or iPad.
Both Tweet Hunt: Classic and its spinoff Tweet Hunt: Celebirdies get the first part right, combining our fascination over the Twitter microblogging service and an old-fashioned shooting game. The trouble with both apps lies in the execution. Despite some clever design touches, both versions of Tweet Hunt misfire in how they operate. After a few frustrating plays, they're likely to sit there on your iOS device as forgotten as the pet rocks of yore.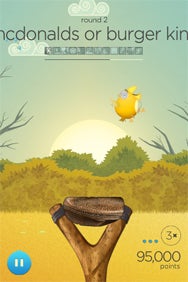 In both versions of Tweet Hunt, little birdies flit and float across the screen of your iPhone, iPod touch, or iPad; it's up to you to knock them to the ground with the provided slingshot, which you aim and operate with the drag of a finger. Hit the birds, and they'll squawk, plummet to earth in an impressive death spiral, and—as they hit terra firma—chirp out an actual tweet from an actual Twitter user. In a bonus that's sure to amuse anyone who ever tried to access Twitter when the service was over-capacity, a fail whale will occasionally float by in the distance; hit that and you not only score big bonus points, you send other birds on the screen plummeting to the ground.
Tweet Hunt's controls are fairly easy to use, though aiming and firing at targets low on the horizon can be a bit too challenging. This becomes a problem in latter rounds as the birds flap across the screen at a more rapid pace. The sound effects of chirping, squawking birds are well-done, and developer Jared Kroff throws in a lot of nice touches, like the stray feathers of birds you've struck lingering in the air.
The problem with these two shooting gallery games lies in the integration with Twitter itself. You'll need a network connection to play the game, which could leave some iPod touch and Wi-Fi-only iPad users out in the cold. (Even then, Tweet Hunt—particularly the Celebirdies version—runs into occasional problems interacting with the Twitter service.) Tweets from fallen birds display haphazardly—shoot a bird near the edge of the screen and the associated tweet will spill out of view. Shoot a lot of birds at once, and their tweets will overlap. On the iPhone's smaller display, the tweets are displayed in a tiny hard-to-read font; then again, the targets appear on the screen so frequently, it's not like you have a lot of time to read the tweets, which seems to negate Tweet Hunt's Twitter tie-in. (You can review the tweets you shot at after each game, but there doesn't appear to be a way to follow any particularly witty or insightful users you come across, even in the Celebirdies version where you can sign into your Twitter account.)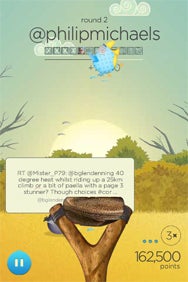 The set-up of Tweet Hunt proves to be frustrating as well. Each game involves 12 rounds—a bit much for a casual game, if you ask me—and you're only allowed a set number of misses in each round. As the rounds progress, the number of allowed misses declines. I've never actually completed a level in Tweet Hunt, reaching only the final round, which ends if you miss more than one shot; I missed two. Some gamers will like that degree of difficulty; I found it overly demanding for a game that offers little in the way of rewards.
Of the two versions, Celebirdies offers more variety. The original Tweet Hunt serves up only tweets from 10 popular trending topics. (The game could be a little more judicious in which topics it offers—I found it a little off-putting to fire at tweets about a deadly accident at the Indiana State Fair or the passing of singer Nick Ashford.) In addition to trending topics, Celebirdies also gives you the opportunity to take potshots at celebrity tweeters like Donald Trump or—the game's best feature—the people you follow through Twitter. I will admit a certainly giddy thrill at downing birds representing people in my timeline, though I decline to say exactly whose tweets I took the greatest pleasure in shooting. (OK, Gruber.)
There's a half-decent idea behind both versions of Tweet Hunt. A little better execution would make the shooting gallery offering a lot more enjoyable.
[Macworld.com editor Philip Michaels recently joined Twitter. Expect the service to fold within a year.]