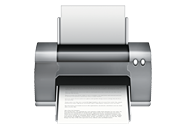 If you love your Epson hardware, treat it right. How? With Apple's 2.8 Epson driver update, released Tuesday.
The updated driver provides updated support for Epson's entire line of printers, scanners, fax machines, and multi-function machinery when connecting to a Mac running OS X 10.6 or later—hence the update's rather large 962MB download size from Apple's Support website. Of course, if you're just updating via Software Update, it'll be much smaller.
You can check to see whether your device in question has driver support using Apple's comprehensive list.