Over the last several months we've covered numerous tips for producing better prints, and it's a lot of information to remember. This article presents a handy recap as well as a guided tour through the Print dialog boxes of popular software such as iPhoto, Photoshop Elements and Photoshop CS5—including tips for borderless printing.
Printing recap
The first step to ensuring great prints is to understand that your images are made from pixels and how to control pixel size using resolution, as discussed in Image resolution—the key to excellent prints. The next step is to download printer- and paper-specific profiles for better color accuracy. You can get the skinny on profiles and where to find them by visiting How to use printer profiles for color fidelity. If you enjoy maximum control over your prints, and you're using Photoshop Elements or Photoshop CS5, you can crop, resize your photo, and adjust its resolution manually as discussed in both How to resize digital images for print and How to resize small images for print. That said, let's turn our attention to using the print dialog boxes of popular software to produce amazing prints—without the hassle of resizing them first. While the screenshots and examples below are from Snow Leopard, the concepts and processes work the same way in Lion.
Using iPhoto '11
Printing from iPhoto is a snap. Just select the photo(s) you want to print and choose File -> Print (or press Command + P). iPhoto's Print Settings pane appears wherein you can choose a theme from the list on the left. Standard produces a plain photo with optional captions (under the Layout button) and white, gray, or black margins. Simple Border is much the same, though Simple Mat and Double Mat get interesting—both options let you add a cardboard frame around the photo that prints right on the page (a great way to add more impact to your image).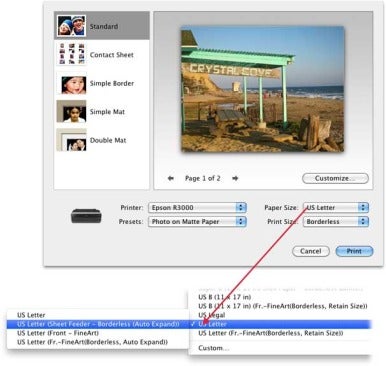 Once you've picked a theme, use the pop-up menus at the bottom of the print pane to choose your printer, paper size, and print size. If you're printing borderless—meaning you want the photo to extend to the edges of the paper—choose a paper size that includes the word borderless. For example, to produce a borderless 8.5-by-11 print, choose US Letter (Sheet Feeder–Borderless [Auto Expand])—or a similar option—from the Paper Size pop-up menu; the Print Size pop-up menu changes to Borderless automatically. (If it doesn't, you can change it manually, though Borderless appears as an option in the Print Size menu only if you've chosen a Paper Size that includes the word).
If you'd like to customize the theme you picked—say, change the border or mat color—click the Customize button. If you're ready to print the photo, click the Print button to open the Mac OS X print dialog box. Choose Printer Settings from the pop-up menu in the middle to summon settings such as paper type (called Media Type) and thus print quality. When you're finished, click the Print button and listen for the sound of your printer.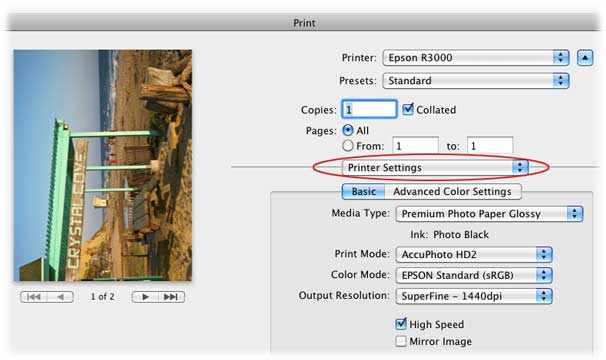 Using Photoshop Elements
When you're ready to print in Photoshop Elements, choose File -> Print and then pick your printer and desired paper size from the pop-up menus on the right of the resulting (humongous) dialog box. Here again, if you want to print to the edges of your photo paper, choose a paper size that includes the word borderless or NMgn in the name, which stands for No Margin. For example, to produce a borderless 8.5-by-11 image, choose Letter.NMgn (or a similar option) from the Paper Size pop-up menu and then choose Custom from the Print Size pop-up menu (8.5-by-11 isn't a preset in this menu). In the resulting dialog box, turn on the Scale to Fit Media option. You'll see the paper size you chose in the height and width fields and Elements' resolution calculation underneath.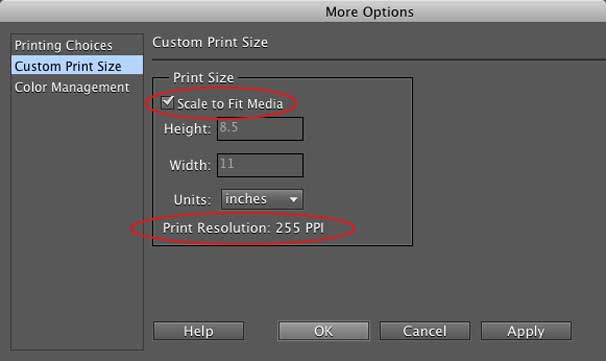 Click OK to return to the Print dialog box. If you didn't crop your image to your desired print size first, you may see white edges in the print preview. If so, check the Crop to Fit checkbox and Elements will enlarge the photo slightly. Click Print and in the resulting Mac OS X Print dialog box, choose Print Settings from the pop-up menu in the middle, and select the paper you're using in the Media Type pop-up menu. Click the Print button and your printer will spring into action.
Using Photoshop CS5
The print process in Photoshop CS5 is nearly the same, though it lacks Elements' Crop to Fit checkbox. Choose File -> Print and pick a printer from the Printer pop-up menu at the top. Click Print Settings to open your Mac's Print dialog box and choose Paper Size and Media Type as we've done earlier. Click the Save button to return to Photoshop's print dialog box.
If you didn't resize your image first, turn on the Scale to Fit Media option in the center. If you see a white edge in the print preview, turn off Scale to Fit Media and experiment with a different scale percentage until the print preview looks good. For example, if turning on Scale to Fit Media yielded a 28 percent size reduction, try 30 percent instead.
Follow the steps
As you can see, producing perfect inkjet prints isn't rocket science, but it does take several steps. The more you do it, the easier it will get! And remember, if you'd like to save on paper costs and gang multiple images onto the same page, take a peek at How to print multiple images on a single page.
[Lesa Snider, author of Photoshop CS5: The Missing Manual and coauthor of iPhoto '11: The Missing Manual (Pogue Press/O'Reilly) is chief evangelist of iStockphoto.com , a long-time member of the Photoshop World Instructor Dream Team and founder of GraphicReporter.com .]
Note: When you purchase something after clicking links in our articles, we may earn a small commission. Read our affiliate link policy for more details.