Jawbone on Tuesday announced an updated version of its Icon Bluetooth headset, along with a new USB/Bluetooth dongle called The Nerd.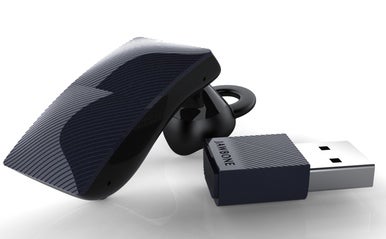 The updated version of the Icon is called the Icon HD. The Icon HD inherits the wideband speaker that Jawbone debuted in its Era headset in the beginning of the year. "We added the wideband speaker to the Icon HD thanks to the incredible feedback we received on the Era's speaker," Travis Bogard, Jawbone's vice president of product management and strategy, told Macworld.
Also new to the Icon HD is the ability to pair with two Bluetooth devices simultaneously. That way, Bogard says, you can achieve a "one headset for everything" approach: You can use the Icon HD for a Skype call on your Mac, and then seamlessly switch to using it for an iPhone call, without needing to disconnect or re-pair.
According to Bogard, one of Jawbone's goals is "to aggregate the audio of all the devices you use into one wire-free headset." The Icon HD's ability to stay connected to two Bluetooth devices at once aims to achieve part of that goal, but Jawbone also wanted to address the fact that pairing Bluetooth devices with computers—even Macs—is often more complicated than it seemingly ought to be. "Pairing Bluetooth [with a computer] is complicated and not consistent," Bogard said. "Every time you want to use it, you're asked whether you want to use it for audio, and forced to choose if you want to use it as a headset or headphones." The "headset" option uses lower-quality audio, but enables your device's microphone; the "headphones" option ignores the mic but provides better audio. Though the Mac requires that you make your choice on a systemwide level, Bogard says, "it's really an application-by-application decision."
Those challenges were the impetus for Jawbone's new USB Bluetooth dongle, which the company has dubbed The Nerd. "You plug and play the USB stick into your Mac, and it handles the Bluetooth setup for you," Bogard said. "Icon HD connects to the Nerd—not directly to your Mac—so you can plug The Nerd into any computer and instantly stream audio" to your headset.
The Nerd is small: It measures 28mm long, 15mm wide, and 8mm tall, and weighs 3 grams. The Nerd and the Icon HD both sport Jawbone's Denim pattern, and they are available together for $139 from Jawbone's website.
Updated 1:00 p.m. ET to clarify a quote of Bogard's.
Icon HD + The Nerd
Price When Reviewed:
$139