We all have our little workflow dependencies—me, I find it hard to do my job without a full mug of tea, some familiar music, and the ability to make Web searches from my browser's address bar. While Firefox and Chrome both support this functionality out of the box, Safari users have long had to turn to add-ons. We've covered several such in the past, but Arne Martin Aurlien's Safari Keyword Search stands apart, for one simple—albeit technical—reason.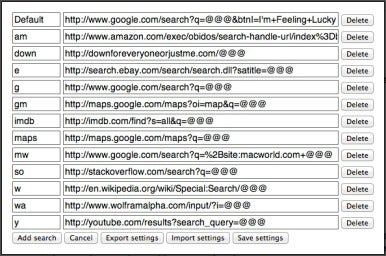 Like many of those other utilities, Safari Keyword Search lets you define certain keywords to quickly search a variety of sources right from Safari's address bar. So, for example, I might want to look up a particular historical figure on Wikipedia; to do so, I just type "w Napoleon" into the location bar. Immediately, I'm taken to a list of results on Wikipedia.
In adddition, Safari Keyword Search comes with predefined keywords for Google, Amazon, IMDB, Google Maps, and more; you can easily define your own as well, including a default that dictates what gets searched when you enter terms without a keyword. There's even a handy system for quickly exporting and importing your list of shortcuts, making it easy to keep your settings the same between multiple computers.
So far, so good. However, what sets Safari Keyword Search apart from other add-ons like SafariStand and Safari Omnibar is that all of those other programs rely on a system called SIMBL—Simple Bundle Loader. SIMBL itself is a piece of software known as an Input Manager, which can inject code into a program as it loads. While that's handy for adding functionality, Input Managers can also present risks to stability and security, which has led to some… strong opinions about their use.
Safari Keyword Search, however, isn't an input manager—it's a Safari Extension. As such, it operates only within Apple's prescribed bounds, meaning that the chance of it performing any nefarious deeds (whether intentionally or not) are greatly reduced. Plus, it's easy to turn on and off—just go to the Extensions setting of Safari's preferences, select Safari Keyword Search, and disable it.
I've been using Safari Keyword Search for a while now—the only annoyance I've run into is trying to run searches that include colons (Safari wants to interpret them as URLs). But, with the transition to Lion, I've decided to swear off Input Managers for good, and Safari Keyword Search has kept me from going insane. Mostly.