After 14 years as Apple's CEO, Steve Jobs resigned his post on Wednesday and was replaced by Tim Cook, who previously was the company's Chief Operating Officer. Jobs, in turn, was elected as chairman of Apple's board of directors.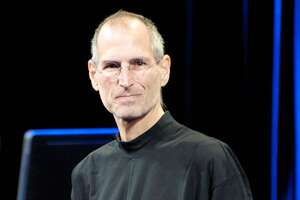 "I have always said if there ever came a day when I could no longer meet my duties and expectations as Apple's CEO, I would be the first to let you know. Unfortunately, that day has come," Jobs said in a letter addressed "to the Apple Board of Directors and the Apple Community."
"I believe Apple's brightest and most innovative days are ahead of it. And I look forward to watching and contributing to its success in a new role," Jobs wrote. "I have made some of the best friends of my life at Apple, and I thank you all for the many years of being able to work alongside you."
"In his new role as Chairman of the Board, Steve will continue to serve Apple with his unique insights, creativity and inspiration," board member and Genentech chairman Art Levinson said in an Apple press release. "Steve's extraordinary vision and leadership saved Apple and guided it to its position as the world's most innovative and valuable technology company. Steve has made countless contributions to Apple's success, and he has attracted and inspired Apple's immensely creative employees and world class executive team."
Jobs had been on a medical leave of absence since January 2011. He continued to hold the CEO title while Cook oversaw the day-to-day operations of the company. At the time, Jobs told Apple employees he was taking a leave from his day-to-day duties to "focus on my health."
"I'm obviously concerned for Steve," analyst Tim Bajarin of Creative Strategies told Macworld. "It's logical to believe that something's related to his health." Bajarin was quick to point out, however, that "he's still chairman… he's saying he can't handle the role of CEO."
"While I am concerned about Steve personally, I am not concerned about Apple," Bajarin said. "You've got a very deep bench of managers and executives who know how Jobs thinks, feels, and his vision."
Gartner analyst Michael Gartenberg echoed those sentiments, noting that "while this marks the end of an era for Apple, it's important to remember the there's more to Apple than any one person, even Steve Jobs. Continuing as chairman Mr. Jobs will continue to leave his mark on both the company and products even as he transfers the reigns to Mr. Cook."
Jobs is "an icon and what he's done with Apple is something probably unprecedented in business," said IDC analyst Al Hilwa. "It will be a case study in business school books for decades."
Jobs had previously taken a six-month leave of absence from Apple in 2009, ultimately undergoing a liver transplant. He had also battled pancreatic cancer in 2004.
Despite his leave of absence from the company, Jobs had remained involved with Apple's long-term efforts. He appeared at June's Worldwide Developers Conference keynote, handling presentation duties for the section on Apple's upcoming iCloud service. Jobs also made a surprise appearance at Apple's iPad 2 press event in March.
Two stints at Apple
Jobs co-founded Apple in 1976, along with Steve Wozniak and Ron Wayne. With Wozniak, he helped develop the Apple I and Apple II, and, in 1984, introduced the Macintosh to the world. However, he clashed with the company's CEO, John Sculley, in 1985 and left to found a new company, Next Computer. He also acquired animation company Pixar from filmmaker George Lucas in 1986, later selling it to Disney and becoming a member of the media conglomerate's board of directors, as well as its largest individual shareholder.
In 1997, Apple acquired Next and Jobs returned to the company to take up the CEO mantle. While Jobs initially served in an interim CEO capacity, replacing ousted chief executive Gil Amelio, he moved into the top role for good in 2000.
During his time at the helm, Apple released a number of groundbreaking products, including the iPod in 2001, the iPhone in 2007, and the iPad in 2010. Jobs also presided over a revitalization of the company's Mac line: Apple introduced its iMac desktop computer in 1998, shortly after his return. Jobs's return also heralded the end of a pair of prominent but controversial projects, including the licensing of the Mac OS to third-party hardware companies, and the Newton personal digital assistant.
Among Jobs's other accomplishments as CEO were the launch of the iTunes Music Store in 2003, which went on to become the top music retailer in the U.S. The store, combined with the iconic iPod, popularized the selling of digital music, and later expanded its content to include movies, television shows, podcasts, audiobooks, ebooks, and, of course, apps for Apple's mobile iOS platform.
Over the course of his tenure, Apple saw unprecedented success, rising from the edge of its demise to become, by some measurements, the most valuable company in the world. That hasn't always meant popular actions—when Jobs returned in 1997, it was with an influx of $150 million from Microsoft, then considered the company's arch-rival. But a decade later, the company had become hugely profitable and, as of its most recent financial statements, now sits on a cash reserve of more than $76 billion.
Full text of Jobs's letter
To the Apple Board of Directors and the Apple Community:

I have always said if there ever came a day when I could no longer meet my duties and expectations as Apple's CEO, I would be the first to let you know. Unfortunately, that day has come.

I hereby resign as CEO of Apple. I would like to serve, if the Board sees fit, as Chairman of the Board, director and Apple employee.

As far as my successor goes, I strongly recommend that we execute our succession plan and name Tim Cook as CEO of Apple.

I believe Apple's brightest and most innovative days are ahead of it. And I look forward to watching and contributing to its success in a new role.

I have made some of the best friends of my life at Apple, and I thank you all for the many years of being able to work alongside you.

Steve
[Updated several times throughout the afternoon to add more information, quotes from analysts, and background on Jobs. Macworld editors Dan Moren and Serenity Caldwell and the IDG News Service's Nancy Gohring contributed to this story.]