Voice Brief transforms your iPhone into a talking assistant of sorts. The $4 productivity app from Dong Baik reads content from your iPhone aloud, freeing you from looking at your phone to find out the day's news, weather or more. Voice Brief is an outstanding, fully featured app that truly can make you more productive.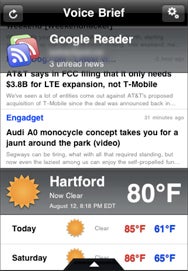 Voice Brief can read many things aloud—your email, calendar, the weather, blog posts, stock prices, and even your friends' Facebook and Twitter posts. Once you've selected what you'd like Voice Brief to read, you then select how you'd like it to read, too.
If you've ever heard your Mac talk to you in its default "Alex" voice, you already know what the voices sound like in Voice Brief. Thankfully Voice Brief gives you a choice of four different voices: two American women, an American man and a British man (English is the only supported language at this point). You can adjust the speed of each voice, too.
Voice Brief uses voices in two different ways: the "announcer" voice reads headlines and gives the weather forecast, for example. The "reporter" voice actually reads the contents of emails or blog posts. Of course you can set the same voice for both readers—or disable one or the other—if you'd like.
No matter which voice you choose, you're liable to be taken by the smoothness with which Voice Brief reads your emails, favorite blogs, weather forecast and more aloud. The app even supports multitasking, meaning you can pop into another app on your iPhone or iPad as Voice Brief continues reading in the background. The result is one very slick app.
Voice Brief suffers from only minor irritations. There are times you'll wish you have more control over what Voice Brief reads. For example, although I asked Voice Brief not to read comments on posts in my Facebook news feed, I found that the app would sometimes read those comments anyway. Other times, it can be difficult to understand what Voice Brief is reading, especially during blog posts containing photos (with captions) or long bulleted lists read in rapid succession. These are relatively minor issues, however, and really don't detract from the overall polish of this app.
When I use Voice Brief, I feel like I'm listening to the ultimate personalized radio station. That's a very cool feeling and a very new way to get your news every day.
[Macworld contributor Brendan Wilhide covers the sports industry and social media on Sportsin140.com.]