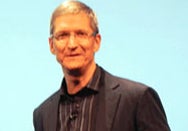 According to Ars Technica, newly appointed CEO Tim Cook rallied the troops on Thursday with an email to the company's employees, in which he describes joining Apple as "the best decision I've ever made" and says he shares "Steve's optimism for Apple's bright future."
As the news of Steve Jobs's resignation sets in, the question on many people's minds is what an Apple under the leadership of Tim Cook will look like. Unsurprisingly, Cook appears bent on steering the ship along the course plotted by Jobs:
I want you to be confident that Apple is not going to change. I cherish and celebrate Apple's unique principles and values. Steve built a company and culture that is unlike any other in the world and we are going to stay true to that—it is in our DNA. We are going to continue to make the best products in the world that delight our customers and make our employees incredibly proud of what they do.
Surprising? Not particularly. Cook has been in charge of day-to-day operations since the beginning of the year when Jobs went on indefinite medical leave, a responsibility he also held while the former CEO—and boy, I'm not sure I'll ever get used to typing that—was being treated for pancreatic cancer in 2004.
Cook acknowledged his debt to Jobs in the email, describing him as "an incredible leader and mentor to me," and reminded employees that the co-founder continues to serve in the position of chairman of the board.