At a Glance
Expert's Rating
Our Verdict
Tree is an innovative outliner for Mac that offers a couple of unique features. The first is that, in addition to the traditional outline style where you add lines vertically, with each new sub-level (child) displayed indented below its parent item, Tree lets build your outlines horizontally, with a child in a new column to the right of its parent. This outline style gives you a different perspective on your outline, as you scroll horizontally to view a section's progression. You can also combine the two views, with each part of an outline getting one or the other orientation.
Another unique feature is that Tree lets you open parts of your outline in separate tabs or windows if you need to focus on a specific section. If you like to isolate parts of a project or document to give each your full attention, you'll appreciate this option.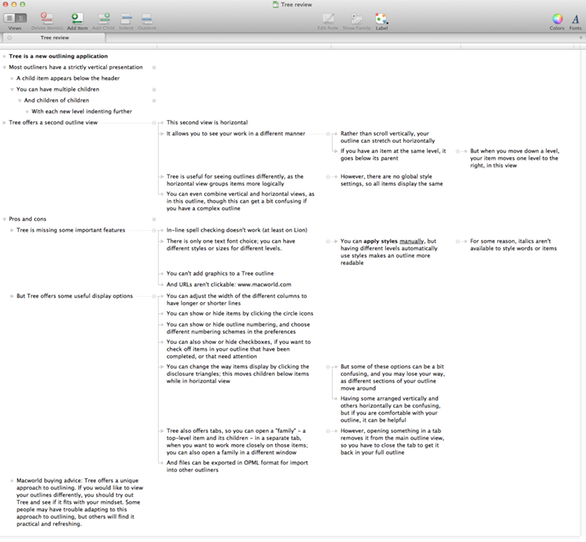 Within your outline, you can adjust the width of columns, add notes to items, and take advantage of several standard numbering schemes. You can show or hide specific items by clicking a small circle icon next to each, and you can use checkboxes to indicate items that have been completed or that need attention. Tree also offers a Lion-friendly full-screen mode. On the other hand, there's no inline spell-checking feature, and you must choose a single font and size for the entire outline—many outliners allow you to set a different font, size, style, and color for each outline level. You also can't include graphics in a Tree outline, and URLs, such as www.macworld.com, aren't clickable.
Nevertheless, Tree offers a unique approach to outlining. If you'd like to view your outlines differently, you should give Tree a try to see if it works for you. Getting used to horizontal outlines may be a bit confusing at first, and between showing and hiding different child items, and changing their orientation, you can easily lose your way in complex outlines. But the capability to combine both vertical and horizontal views can be very useful, offering you an additional—and, to me, practical and refreshing—form of organization you won't find in most outlining apps.
Senior contributor Kirk McElhearn, the author of Take Control of Scrivener 2, writes about more than just Macs on his blog Kirkville and on Twitter.
Want to stay up to date with the latest Gems? Sign up for the Mac Gems newsletter for a weekly email summary of Gems reviews sent directly to your Inbox. You can also follow Mac Gems on Twitter.